Agriculture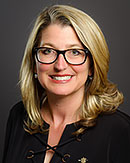 Honourable Lana Popham
Honourable Lana Popham
Read Bio
Contact
Email: AGR.Minister@gov.bc.ca
Featured Topics
Honourable Lana Popham
Lana was raised on Quadra Island in a do-it-yourself community, where growing food, raising animals and harvesting from the sea was a way of life.
Her interest in urban planning led her to UBC where she graduated with a degree in geography.
In 1996, Lana made her home in Saanich South. She co-founded and operated Barking Dog Vineyard, the first certified organic vineyard on Vancouver Island. She also managed a crew of vineyard workers who took care of many vineyards on the Saanich Peninsula, and has been a strong advocate for food producers in Saanich for many years.
Lana served on Saanich's Planning, Transportation and Economic Development Committee and on the Peninsula Agricultural Commission. She was also president of the Vancouver Island Grape Growers Association, chair of the Certification Committee for the Islands Organic Producers Association, and a member of the Investment Agriculture Board.
After being elected in 2009, Lana served as Opposition critic for agriculture for eight years.