Edition: April 1-5, 2019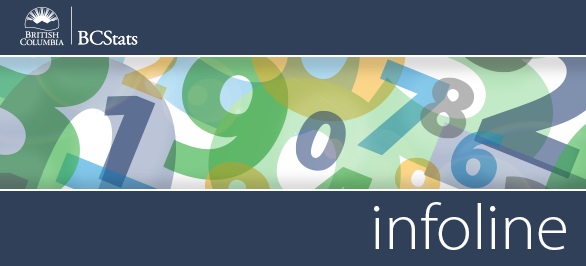 Infoline Highlights: Coverage for the week of April 1-5

Labour Force Statistics- The unemployment rate in British Columbia was 4.7% in March, up 0.2 percentage points from February and down 0.1 percentage points from 12 months ago. Both the labour force (+12,300) and the number of jobs (+7,900) increased from February.
Read more >>
Science and Technology - Federal government spending on science and technology (S&T) is expected to total $11.7 billion (current dollars) in the 2019/2020 fiscal year. Intended S&T expenditure is lower (-2.6%) than in 2018/2019, when spending was at $12.0 billion, and marks the second consecutive annual decline in federal spending on S&T.
Read more >>
Energy-Saving Lights - Almost 9 out of 10 (86%) British Columbian households reported using at least one type of energy-saving light in 2017. This rate has remained relatively unchanged over the last decade (87% in 2007) and was two percentage points below the proportion for the nation as a whole (88%).
Read more >>
Drinking Water - British Columbians are increasingly turning to tap water as primary drinking source. Just one in eight (12%) B.C. households primarily drank bottled water rather than tap water in 2017.
Read more >>


Surveys are open for past post-sec students from Apprenticeship program; Diploma, Associate Degree, and Certificate program; Trades Foundation and trades-related vocational programs. Learn more:

http://www.

outcomes.bcstats.gov.bc.ca

#bcstudentoutcomes #postsecondary

Follow @BCStats on Twitter


Current Surveys
BC Council on Admissions & Transfer Survey of Mobile Students



BC Hydro Workforce Profile Survey
BC Public Service Exit Survey
BC Public Service New Job Survey
BC Student Outcomes Survey of Apprenticeship and Trades Training Students


BC Student Outcomes Survey of Diploma, Associate Degree and Certificate Students

CABRO Diversity

Canada-BC Job Grant Outcomes Survey
FrontCounter BC Customer Satisfaction Survey
Labour Market Agreement for Persons with Disabilities Outcomes Survey


Long Term Disability (LTD) Application Process Survey
You can read more about any of these by visiting our Current and Recent Surveys page.



Did You Know
Most Canadian households (87%) had a park or greenspace within a 10-minute journey of their home in 2017, with households in B.C. being the most likely (90%), and households in New Brunswick the least likely (71%).
Source: Statistics Canada


Headlines
B.C.'s unemployment rate in March rose slightly from the month before.

Federal science and technology spending for 2019-2020 is expected to be lower than in 2018-2019.

More households in B.C. are drinking tap water over bottled water.