Edition: April 13-17, 2020
Resources
News by Sector
Economy
Government Operations
Multiculturalism
Services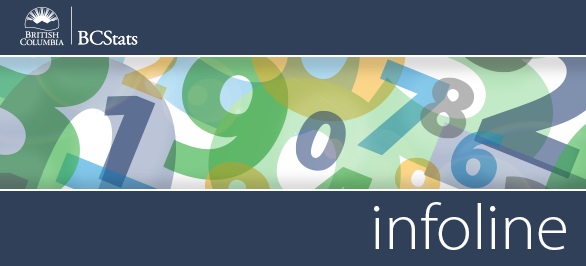 Infoline Highlights for the Week of April 13-17

Employment Insurance - The number of people receiving employment insurance (EI) benefits in British Columbia decreased by 1,470 (‑3.4%) in February compared to January, to reach 41,570 individuals. The decrease was mostly driven by a decline in male recipients (-1,130 persons or -5.0%), while the number of female recipients also saw a drop in the month (-150 persons or ‑0.9%).
Read more >>
Manufacturing Sales - B.C. manufacturing sales (seasonally adjusted) increased 3.7% in February compared to January. The gain was mostly attributable to higher sales in the wood product (+5.8%), non-metallic mineral product (+26.5%), fabricated metal product (+8.7%) and paper (+7.5%) manufacturing industries.
Read more >>
Gross Domestic Product Flash Estimate - Statistics Canada continues to make efforts to provide information on the impacts of COVID-19 on the economy in a timely manner. For this purpose, a flash estimate of Canadian gross domestic product (GDP) was released today.
Read more >>
MLS Home Sales - In March, there were 6,717 residential units sold in British Columbia, an increase of 17.2% from the same month last year. Meanwhile, residential prices went up by 15.1% to reach $789,548. Overall, the value of home sales grew by 35.0% compared to March 2019.
Read more >>




Current Surveys
B.C. Electric Vehicle Market Research Survey



BC Hydro Workforce Profile Survey
BC Public Service Exit Survey
BC Public Service New Job Survey

BC Smoking Cessation Program




BC Student Outcomes Survey of Apprenticeship and Trades Training Students




BC Student Outcomes Survey of Diploma, Associate Degree and Certificate Students

K-12 School Food Survey

Liquor Distribution Branch Work Environment Survey

Workforce Development Agreement Outcomes

Workforce Development Agreement Employer Outcomes



You can read more about any of these by visiting our Current Surveys page.



Did You Know
Temporary foreign workers play a key role in Canada's agricultural sector. In 2018, they held 54,734 jobs on Canadian farms (up 12.7% from 2016), primarily in Ontario (25,611), Quebec (14,653) and B.C. (9,514).
Source: Statistics Canada


Headlines
Fewer people in B.C. were collecting employment insurance benefits in February from the month before.

Manufacturing sales increased in February from January.

GDP flash estimates suggest that Canada's economy contracted significantly in March.