Edition: April 15-19, 2019
Resources
News by Sector
Economy
Government Operations
Multiculturalism
Services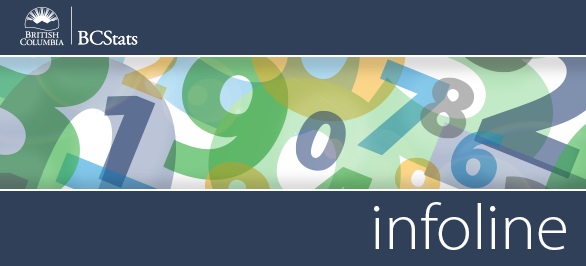 Infoline Highlights: Coverage for the week of April 15-19

Retail Sales - Retail sales in British Columbia were down 1.9% (seasonally adjusted) in February, reversing a boost recorded in January (+1.8%). Nationally, retail sales saw the first real sign of growth in recent months (+ 0.8% in February), having remained relatively stagnant since November.
Read more >>
Food Services and Drinking Places - Receipts at food services and drinking places in B.C. continued to stall in February, inching down 0.2% (seasonally adjusted). Canadian sales were slightly higher (+0.6%), with five provinces posting increases, including Quebec (+2.0%) and Ontario (+1.1%).
Read more >>
Employment Insurance - The number of British Columbians receiving regular Employment Insurance (EI) benefits rose 2.7% (seasonally adjusted) in February, to 41,100. Nationally, EI beneficiaries climbed 1.0% to 441,160
Read more >>
Manufacturing Sales - Manufacturing sales in B.C. dipped 1.4% (seasonally adjusted) in February. Sales of manufactured food products were higher for the second straight month (+1.1%) and sales of paper products jumped 19.1%, each helping to drive total receipts for non-durables higher (+5.9%).
Read more >>
Exports - The value of B.C. origin exports climbed 1.8% in the first two months of 2019 compared to January to February 2018. Exports increased to B.C.'s largest trading partners, the United States (+7.3%) and Mainland China (+10.5%), as well as South Korea (+4.3%) and Australia (+19.9%).
Read more >>
Consumer Price Index - British Columbia's consumer price index (CPI) was 2.6% higher (unadjusted) in March 2019 than in the same month of 2018. On a monthly basis, the rate of inflation rose 0.7% from February 2019.
Read more >>




Current Surveys
BC Council on Admissions & Transfer Survey of Mobile Students



BC Hydro Workforce Profile Survey
BC Public Service Exit Survey
BC Public Service New Job Survey
BC Student Outcomes Survey of Apprenticeship and Trades Training Students


BC Student Outcomes Survey of Diploma, Associate Degree and Certificate Students

Canada-BC Job Grant Outcomes Survey
FrontCounter BC Customer Satisfaction Survey
Labour Market Agreement for Persons with Disabilities Outcomes Survey


Long Term Disability (LTD) Application Process Survey
You can read more about any of these by visiting our Current and Recent Surveys page.



Did You Know
In 2017-2018, wine sales in Canada grew 4.6% to $7.5 billion, accounting for 32.4% of total alcoholic beverage sales.
Source: Statistics Canada


Headlines
Manufacturing sales in B.C. slipped in February from the month before.

B.C.'s consumer price index in March increased from March 2018.

The value of B.C.'s exports rose in the first two months of 2019 compared to the same period in 2018.