Edition: April 16, 2018
Resources
News by Sector
Economy
Government Operations
Multiculturalism
Services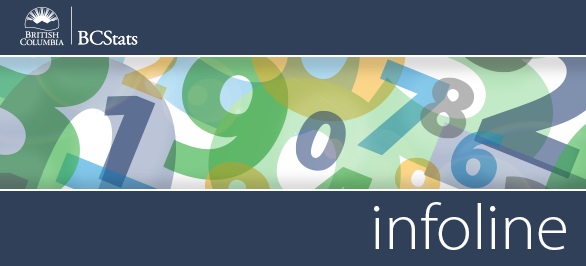 Infoline Highlights: Coverage for the week of April 9 - 13

Price of New Housing- The cost of new housing in B.C. was unchanged between January and February. Prices in Vancouver, Kelowna and Victoria also remained unchanged compared to the previous month. Relative to the same month of 2017, the cost of new housing in B.C. continued to climb in February, rising by 7.8%.
Read more >>
Housing Starts- Housing starts in urban areas (areas with population of at least 10,000) in British Columbia went up by 48.5% (seasonally adjusted at annual rates) in March compared to February, the third largest increase among provinces. The increase was widespread with every housing type start registering gains in the month.
Read more >>



@BCStats on Twitter
Housing starts in B.C.'s urban areas rose by 48.5% in March compared to February, with Kelowna seeing the biggest increase (338.6% for the month).

Follow @BCStats on Twitter


Current Surveys
BC Hydro Workforce Profile Survey
BC Public Service Exit Survey
BC Student Outcomes Survey of Apprenticeship and Trades Training Students
BC Student Outcomes Survey of Diploma, Associate Degree and Certificate Students
Canada-BC Job Grant Outcomes Survey
Community Gaming Grants Survey
FrontCounter BC Customer Satisfaction Survey
HealthLink BC 2018 Work Environment Survey
New Job Survey
Social Development and Poverty Reduction (SDPR) LMAPD Monthly Survey
Survey on Skills, Competencies and Characteristics for Future Workforce
The College of New Caledonia Work Environment Survey
U-Pass BC Survey
You can read more about any of these by visiting our Current and Recent Surveys page.



Did You Know
39% of Canadians said that they have changed their social media behaviour due to privacy concerns. While 11% of these respondents have stopped using some social media platforms completely for this reason, British Columbians are among the least likely to take this step (7%).
Source: Ipsos Canada


Headlines
The cost of new housing in February didn't change from January, although it has risen from the previous year.

March saw a jump in housing starts over the month before.