Edition:
Resources
Top News by Sector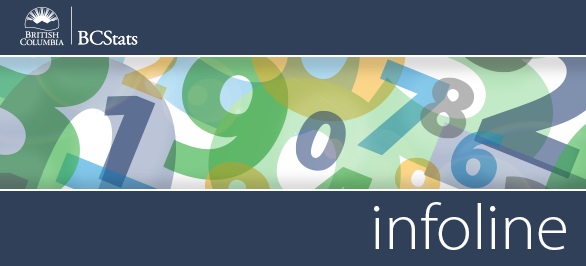 Infoline Highlights: Coverage for the week of April 11-15

Price of New Housing - The cost of new housing in B.C.'s two largest metropolitan areas rose in February. In Victoria, new housing prices were 0.2% higher than in the same month of 2015, marking the first increase since September of 2008.
Read more >>
Manufacturing Sales - Sales of goods produced by British Columbia manufacturers slipped (-0.6%, seasonally adjusted) in February. Durable manufacturers saw no change (0.0%) in the value of shipments, as weakness in the machinery (-2.9%), wood (-3.6%), furniture (-4.1%) and computer and electronics (-4.7%) industries offset strength in other sectors.
Read more >>

Non-residential Building Investment - Investment in non-residential building construction in the province increased 2.5% (seasonally adjusted) to $1.5 billion in the first quarter of 2016.
Read more >>
Housing Starts - The number of housing starts in the province's urban areas (10,000+ population) dipped 20.4% (seasonally adjusted) in March, partly reversing a considerable 61.3% jump in the previous month.
Read more >>

The 2016 Census is Coming! - Canada's next census will be conducted in May 2016. Early in May, census packages will be delivered to households across Canada, providing residents with the information they need to complete their questionnaire online or on paper.
Read more >>





Current Surveys
Agricultural Land Commission Work Environment Survey 2016

Apprenticeship Student Outcomes (APPSO) Survey
Baccalaureate Graduate Survey
BC Hydro Workforce Profile Survey
BC Labour Market Agreement Outcomes Survey
BC Public Service Exit Survey
Canada-BC Job Grant Outcomes Survey

Diploma, Associate Degree, and Certificate Student Outcomes (DACSO) Survey
FrontCounter BC Customer Satisfaction Survey
Long Term Disability (LTD) Application Process Survey

West Vancouver Police Department Work Environment Survey 2016

You can read more about any of these by visiting our
Current and Recent Surveys
page.


Did You Know
One in three Canadians has experienced a major emergency or disaster in their community during their lifetime that severely disrupted their daily lives.
Source: Statistics Canada


Headlines
New housing prices climb in both Victoria (+0.2%) and Vancouver (+4.0%) in February

B.C. manufacturing sales inch down 0.6% in February

Canada's next census to be conducted in May 2016