Edition: April 20-24, 2020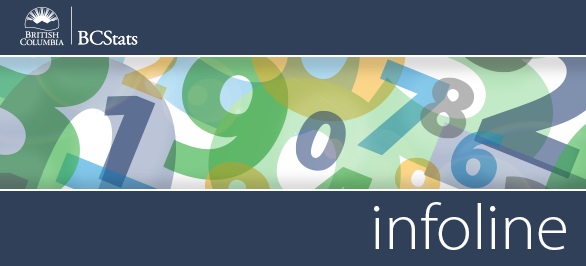 Infoline Highlights for the Week of April 20-24

Food Services and Drinking Places - Revenues generated in British Columbia's food service and drinking places industry grew by 0.7% (seasonally adjusted) in February compared to January. Sales for the month were up in all establishment categories, except in limited-service eating places.
Read more >>
Price of New Housing - The cost of new housing in B.C. went up by 0.4% between February and March. Prices in Vancouver (+0.5%) saw an increase in the period, while prices in Kelowna remained unchanged. Victoria saw prices fall by 0.2% in the month.
Read more >>
Consumer Price Index - British Columbia's consumer price index (CPI) was 1.2% higher (unadjusted) in March 2020 than in the same month of 2019. On a monthly basis, the CPI fell 0.5% from February 2020. The overall annual inflation rate increased to 1.6% when food and energy were excluded from the index.
Read more >>
Retail Sales - Retail sales in British Columbia (seasonally adjusted) grew in February by 1.2% compared to January. The increase was led by higher sales at general merchandise stores and building material and garden equipment and supplies dealers.
Read more >>
Wholesale Sales - Sales by wholesalers (seasonally adjusted) in British Columbia went up in February to reach $6.5 billion, a 1.6% increase compared to the previous month. The monthly increase was led by motor vehicle and motor vehicle parts and accessories wholesales (+10.7%).
Read more >>




Current Surveys
B.C. Electric Vehicle Market Research Survey



BC Hydro Workforce Profile Survey
BC Public Service Exit Survey
BC Public Service New Job Survey

BC Smoking Cessation Program




BC Student Outcomes Survey of Apprenticeship and Trades Training Students




BC Student Outcomes Survey of Diploma, Associate Degree and Certificate Students

K-12 School Food Survey

Liquor Distribution Branch Work Environment Survey

Workforce Development Agreement Outcomes

Workforce Development Agreement Employer Outcomes



You can read more about any of these by visiting our Current Surveys page.



Did You Know
Nearly all (96%) Canadians feel that COVID-19 is creating an economic crisis, with 36% having experienced job loss or reductions already, and 63% worried that someone in their family will lose their job. This job anxiety is highest in Alberta (79%), followed by B.C. (67%) and Ontario (62%).
Source: Ipsos Canada


Headlines
The price of new housing in B.C. increased in March from the month before.

B.C.'s rate of inflation rose slightly in March from March 2019.

Retail sales in B.C. grew between January and February.