Edition: April 22-26, 2019
Resources
News by Sector
Economy
Government Operations
Multiculturalism
Services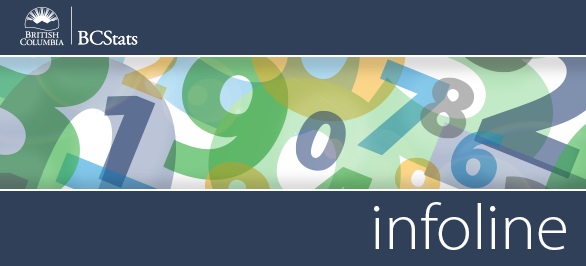 Infoline Highlights: Coverage for the week of April 22-26

Visitor Entries - Visitor entries to B.C. from the U.S. and overseas were down notably (-8.4%, seasonally adjusted) in February. Entries from overseas sources dipped 2.3%, and travel to B.C. from the U.S. was also on the decline (-10.6%).
Read more >>
Average Weekly Earnings - Average weekly earnings (including overtime) of payroll employees in British Columbia were $969.20 in February (seasonally adjusted, current dollars), $5.64 less than in the previous month (-0.6%). Nationally, employee wages averaged $1007.40, also lower than the previous month (-0.3% or -$3.30).
Read more >>
Building Investment - Total investment in building construction in B.C. continued to climb in February, increasing 2.6% (seasonally adjusted) from January, to reach $2.7 billion. Investment in non-residential building construction in the province was relatively unchanged (-0.1% to $612 million) from January
Read more >>
Wholesale Sales - Wholesale sales in the province slipped 3.4% (seasonally adjusted) in February. Weaker sales in three subsectors, including machinery, equipment and supplies, explained much of the decline. Nationally, wholesalers saw a modest 0.3% increase in sales
Read more >>




Current Surveys
BC Council on Admissions & Transfer Survey of Mobile Students



BC Hydro Workforce Profile Survey
BC Public Service Exit Survey
BC Public Service New Job Survey
BC Student Outcomes Survey of Apprenticeship and Trades Training Students


BC Student Outcomes Survey of Diploma, Associate Degree and Certificate Students

Canada-BC Job Grant Outcomes Survey
FrontCounter BC Customer Satisfaction Survey
Labour Market Agreement for Persons with Disabilities Outcomes Survey


Long Term Disability (LTD) Application Process Survey
You can read more about any of these by visiting our Current and Recent Surveys page.



Did You Know
Nearly half (48%) of Canadians are $200 or less each month away from financial insolvency, according to the MNP Consumer Debt Index in March. Atlantic Canadians report being the region most likely (55%) to be at risk of financial insolvency than they were in December, and British Columbians report being the least likely (39%) to be in danger of financial insolvency during the same period.
Source: Ipsos


Headlines
Fewer people entered B.C. in February than the month before.

B.C. payroll employees' average weekly earnings decreased in February over January.

Building investment in B.C. increased in February over the month before.