Edition: April 23, 2018
Resources
News by Sector
Economy
Government Operations
Multiculturalism
Services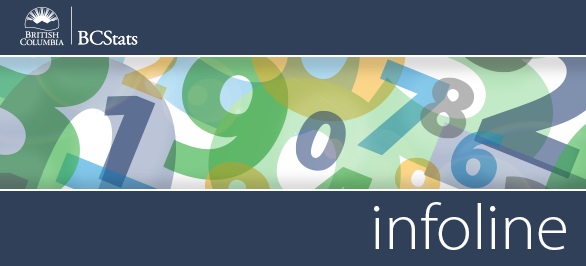 Infoline Highlights: Coverage for the week of April 16 - 20

Consumer Price Index - British Columbia's consumer price index (CPI) rose 2.6% (unadjusted) in March compared to the same month of the previous year.
Read more >>
Retail Sales-Retail sales in British Columbia (seasonally adjusted) went up by 0.4% in February compared to January, led by clothing and clothing accessories stores.
Read more >>
Non-residential Building Investment- Investment in non-residential building construction in B.C. increased by 3.8% (seasonally adjusted) in the first quarter of 2018. The increase was widespread across all sectors.
Read more >>
Manufacturing Sales- B.C. manufacturing sales (seasonally adjusted) went down by 1.3% in February compared to January, led by decreases in electrical equipment, appliance and component (‑28.6%) and transportation equipment (‑12.4%) manufacturing.
Read more >>
Employment Insurance- The number of people receiving employment insurance (EI) benefits in British Columbia decreased by 250 (‑0.5%) in February compared to January, to reach 45,370 individuals.
Read more >>



@BCStats on Twitter
The number of British Columbians receiving employment insurance (EI) benefits decreased by 250 (‑0.5%) in February compared to January, although Vancouver saw a slight (+1.2%) increase during this period.

Follow @BCStats on Twitter


Current Surveys
BC Hydro Workforce Profile Survey
BC Public Service Exit Survey
BC Student Outcomes Survey of Apprenticeship and Trades Training Students
BC Student Outcomes Survey of Diploma, Associate Degree and Certificate Students
Canada-BC Job Grant Outcomes Survey
Community Gaming Grants Survey
FrontCounter BC Customer Satisfaction Survey
HealthLink BC 2018 Work Environment Survey
New Job Survey
Social Development and Poverty Reduction (SDPR) LMAPD Monthly Survey
Survey on Skills, Competencies and Characteristics for Future Workforce
The College of New Caledonia Work Environment Survey
U-Pass BC Survey
You can read more about any of these by visiting our Current and Recent Surveys page.



Did You Know
According to the latest MNP Consumer Debt Index measures, around two in five British Columbians have felt the impact of recent increases in interest rates. Meanwhile, over half (51%) are concerned past and future interest rate hikes could impact their ability to fulfill debt obligations.
Source: MNP LTD


Headlines
British Columbia's consumer price index (CPI) rose in March compared to the same month of the previous year.

Retail sales in British Columbia went up in February compared to January.

Investment in non-residential building construction in B.C. increased in the first quarter of 2018.