Edition: April 29-May3, 2019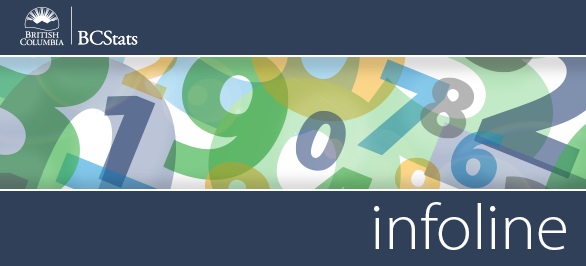 Infoline Highlights: Coverage for the week of April 29-May 3

Marital Status - The number of married (and not separated) people living in British Columbia in 2018 (as of July 1st) rose 1.5% from 2017, to 2.0 million. There was a similar increase (+1.3%) in the number of common law relationships, to 410,052, partly due to more 35 to 39-year-olds (+3.7%) engaging in the practice, as well as 30 to 34-year-olds (+1.9%), and 25 to 29-year-olds (+1.3%).
Read more >>
Gross Domestic Product - The Canadian economy contracted (-0.1%, seasonally adjusted) in February, following strong growth (+0.3%) in the previous month. The goods sector lost ground (-0.2%) as mining, quarrying, and oil & gas extraction (-1.6%) remained in a downturn, while manufacturing (-0.4%) fell back after surging (+2.1%) at the beginning of the year.
Read more >>
Industrial Product Price Index - Canadian manufacturers' selling prices were 1.5% higher in March than in the same month of 2018. The increase was mostly attributable to climbing prices for motorized and recreational vehicles (+3.1%) and primary ferrous metal products (+8.1%). Meanwhile, prices for primary non-ferrous metal products (-4.0%) were notably lower than in March of last year
Read more >>




Current Surveys
BC Council on Admissions & Transfer Survey of Mobile Students



BC Hydro Workforce Profile Survey
BC Public Service Exit Survey
BC Public Service New Job Survey
BC Student Outcomes Survey of Apprenticeship and Trades Training Students


BC Student Outcomes Survey of Diploma, Associate Degree and Certificate Students

Canada-BC Job Grant Outcomes Survey
FrontCounter BC Customer Satisfaction Survey
Labour Market Agreement for Persons with Disabilities Outcomes Survey


Long Term Disability (LTD) Application Process Survey
You can read more about any of these by visiting our Current and Recent Surveys page.



Did You Know
According to the Canadian Housing Statistics Program's new release, single-detached homes in B.C. have an average value of $317 per square foot, significantly higher than single-detached houses in Ontario ($205) and Nova Scotia ($113).
Source: Statistics Canada


Headlines
The number of people in committed relationships in B.C. was higher in 2018 than 2017.

Canada's GDP slowed down in February from the month before.

Canada's IPPI was higher in March than March 2018.