Edition: April 3, 2017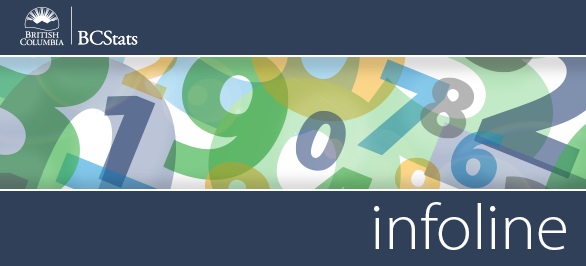 Infoline Highlights: Coverage for the week of March 27 - 31

Input Indicators of the British Columbia Technology Sector: 2016 Edition - High technology firms tend to be innovative and efficient. They create goods and services that confer benefits on other parts of the economy by improving productivity and profitability, while at the same time providing relatively high-wage employment. The picture of British Columbia that emerges from the most recent input indicators is varied. In many areas, British Columbia compares quite favourably with other provinces, and has shown notable growth. On the other hand, performance has lagged in some areas.
Read more >>
Police Resources - In 2016, there were 8,761 police officers in British Columbia, an addition of approximately 90 officers since 2015. The number of police per 100,000 population in B.C. (184) was down slightly from the previous year (185).
Read more >>
Industrial Product Price Index - Canadian manufacturers' prices were notably higher (+3.5%) this February than in the same month of 2016. A 26.9% year-over-year surge in the price of energy and petroleum products was the largest contributor to the overall increase, and price boosts for chemicals (+5.2%) and primary non-ferrous metal products (+7.9%) also exerted upward pressure.
Read more >>
Food Services and Drinking Places - Revenues generated in British Columbia's food service and drinking places industry climbed 1.6% (seasonally adjusted) in January.
Read more >>


@BCStats on Twitter
Get the latest - the 2016 edition of Input Indicators of the B.C. Technology Sector is now available.

Follow @BCStats on Twitter


Current Surveys
Apprenticeship Student Outcomes (APPSO) Survey
Baccalaureate Graduate Survey
BC Hydro Workforce Profile Survey
BC Public Service Exit Survey
Canada-BC Job Grant Outcomes Survey
Diploma, Associate Degree, and Certificate Student Outcomes (DACSO) Survey
FrontCounter BC Customer Satisfaction Survey
Labour Market Agreement for Persons with Disabilities Outcome Survey
Long Term Disability (LTD) Application Process Survey
SDSI LMAPD Monthly Survey 2016-17
Transportation Investment Corporation 2017 Work Environment Survey

You can read more about any of these by visiting our Current and Recent Surveys page.



Did You Know
April 2 was World Autism Day. 1 in 68 children are identified as having Autism Spectrum Disorder (ASD), although boys are more like (1 in 42) to be identified with the disorder than girls (1 in 189).
Source: AutismBC



Headlines
B.C. shows strength in some input indicators to the high tech sector

B.C.'s food services and drinking places see sales climb 1.6% in January

In 2016, nearly a quarter (22%) of B.C.'s police officers were female