Edition: April 3, 2018
Resources
News by Sector
Economy
Government Operations
Multiculturalism
Services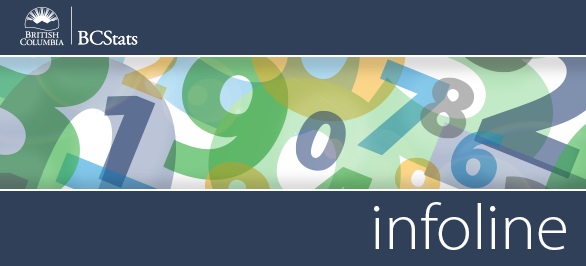 Infoline Highlights: Coverage for the week of March 26 - 29

Quarterly Population Highlights- Combined net in-migration from all sources (inter-provincial and international) totalled 7,174 persons during the fourth quarter of 2017. Broken down, net interprovincial in-migration contributed 854 persons to population growth while net international in-migration added 6,320 persons
Read more >>
Gross Domestic Product- Canadian real GDP by industry at basic prices edged down 0.1% (seasonally adjusted) in January.
Read more >>
Average Weekly Earnings- Average weekly earnings of payroll employees in British Columbia (seasonally adjusted, current dollars) went up in January, increasing by $3.47 (+0.4%) to reach $961.09.
Read more >>
Bankruptcies- In January 2018, there was an increase of 4.3% in overall bankruptcies in British Columbia compared to January 2017.
Read more >>
Industrial Product Price Index- Canadian manufacturers' selling prices rose 1.9% in February, compared to the same month a year earlier.
Read more >>




Current Surveys
BC Hydro Workforce Profile Survey
BC Public Service Exit Survey
BC Student Outcomes Survey of Apprenticeship and Trades Training Students
BC Student Outcomes Survey of Diploma, Associate Degree and Certificate Students
Canada-BC Job Grant Outcomes Survey
Community Gaming Grants Survey
FrontCounter BC Customer Satisfaction Survey
New Job Survey
Social Development and Poverty Reduction (SDPR) LMAPD Monthly Survey
Survey on Skills, Competencies and Characteristics for Future Workforce
The College of New Caledonia Work Environment Survey
U-Pass BC Survey
You can read more about any of these by visiting our Current and Recent Surveys page.



Did You Know
In 2017, British Columbia had 8,966 police officers, of which 22.4% were female, the second highest proportion of female police officers among provinces (behind Quebec at 26.0%). British Columbia had around 186 police officers per 100,000 persons last year, slightly lower than the Canadian average of 188 police officers per 100,000 persons.
Source: Statistics Canada


Headlines
British Columbia's population grew in the fourth quarter of 2017.

Canadian real GDP by industry at basic prices fell (seasonally adjusted) in January.

In January 2017, B.C.'s growth of average weekly earnings (year-over-year) ranked second among provinces.