Edition: April 6-10, 2020
Resources
News by Sector
Economy
Government Operations
Multiculturalism
Services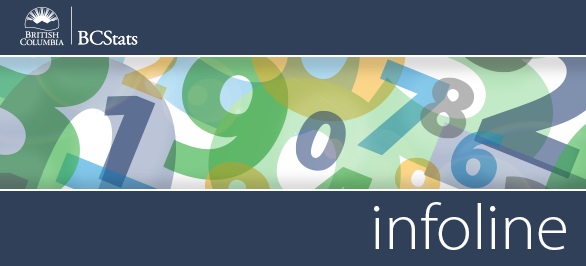 Infoline Highlights for the Week of April 6-10

Labour Force Survey - The unemployment rate in British Columbia was 7.2% in March, up 2.2 percentage points from February and 2.5 percentage points higher than 12 months ago. Overall in March, the labour force contracted (‑80,400), while the number of jobs decreased (‑132,400).
Read more >>
Housing Starts - Housing starts in urban areas (areas with population of at least 10,000) in British Columbia went down by 5.8% (seasonally adjusted at annual rates) in March compared to February. Fewer multiple-family (-25.1%) housing starts more than offset a small increase in single-family (+0.5%) housing starts in the month.
Read more >>
Building Permits - The value of building permits (seasonally adjusted) issued by B.C. municipalities fell 39.2% in February compared to January. The decline was concentrated in Vancouver (-54.7%), the only census metropolitan area in the province to register a decrease in the month.
Read more >>
Bankruptcies - There were 338 bankruptcies filed by consumers in British Columbia in February, a 11.9% increase from the same month of 2019. Conversely, the number of business bankruptcies remained unchanged, at 3.
Read more >>




Current Surveys
B.C. Electric Vehicle Market Research Survey



BC Hydro Workforce Profile Survey
BC Public Service Exit Survey
BC Public Service New Job Survey

BC Smoking Cessation Program




BC Student Outcomes Survey of Apprenticeship and Trades Training Students




BC Student Outcomes Survey of Diploma, Associate Degree and Certificate Students

K-12 School Food Survey

Liquor Distribution Branch Work Environment Survey

Workforce Development Agreement Outcomes

Workforce Development Agreement Employer Outcomes



You can read more about any of these by visiting our Current Surveys page.



Did You Know
Your input is important. Statistics Canada is collecting data on the impacts of COVID-19 on Canadians. All Canadians living in the 10 provinces and 3 territories can participate by taking 5 minutes to complete the short online questionnaire, which closes on April 16.
To find out more and to take the survey, visit www.statcan.gc.ca/COVID-19.

Source: Statistics Canada


Headlines
B.C.'s unemployment rate increased in March from March 2019.

The value of building permits in B.C. dropped in February from January.

Consumer bankruptcies in B.C. increased in February, while the number of business bankruptcies remained unchanged.