Edition: April 7, 2017
Resources
News by Sector
Economy
Government Operations
Multiculturalism
Services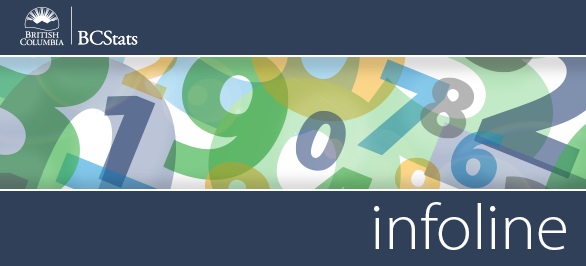 Infoline Highlights: Coverage for the week of April 3-7

Labour Force Statistics - The unemployment rate in British Columbia was 5.4% in March, up from 5.1% in February, but lower than it was in March 2016, when it was 6.4%. Compared to February, there were 13,900 more people in the labour force.
Read more >>
Exports - Year-to-date to February, the value of B.C. origin exports jumped 15.8%, compared to the same two-month period in 2016. There was fairly robust growth in shipments to B.C.'s largest trading partner, the United States (+13.3%), while exports expanded even more rapidly to destinations such as the European Union (+59.8%), Japan (+25.3%), South Korea (+61.5%) and Taiwan (+93.4%).
Read more >>
Building Permits - The value of building permits issued by B.C. municipalities bucked the national trend in February, increasing 7.1% (seasonally adjusted). Permits for residential projects climbed 17.2%, while those for other types of buildings slowed (-19.4%).
Read more >>
Gross Domestic Product (GDP) - Canadian real GDP by industry at basic prices (seasonally adjusted) increased 0.6% in January. Except for October, GDP has grown every month since June 2016.
Read more >>
Bankruptcies
- The number of bankruptcies registered by B.C. businesses (-16.7%) and consumers (-10.2%) dropped in January of 2017 from the same period a year prior.

Read more >>



@BCStats on Twitter
The unemployment rate in B.C. was 5.4% in March, up from 5.1% in February, and still the lowest in Canada.

Follow @BCStats on Twitter


Current Surveys
Apprenticeship Student Outcomes (APPSO) Survey
Baccalaureate Graduate Survey
BC Hydro Workforce Profile Survey
BC Public Service Exit Survey
Canada-BC Job Grant Outcomes Survey
Diploma, Associate Degree, and Certificate Student Outcomes (DACSO) Survey
FrontCounter BC Customer Satisfaction Survey
Labour Market Agreement for Persons with Disabilities Outcome Survey
Long Term Disability (LTD) Application Process Survey
SDSI LMAPD Monthly Survey 2016-17
Transportation Investment Corporation 2017 Work Environment Survey

You can read more about any of these by visiting our Current and Recent Surveys page.



Did You Know
Thank you for your interest in Infoline. To ensure strict adherence with the BC Elections Act, as of April 8th, 2017, our social media account and newsletter will only be used for items that are statutory in nature or necessary for the health and safety of British Columbians. The writ of election is issued on April 11, 2017, starting the provincial election period. We will be available to communicate with you again on May 10. Until then, if you need assistance, please contact Service BC.


Headlines
B.C.'s employment rate in March remained the same.

Energy product exports almost doubled in value year-to-date to February

The Canadian economy expanded slightly in January