Edition: April 8-12, 2019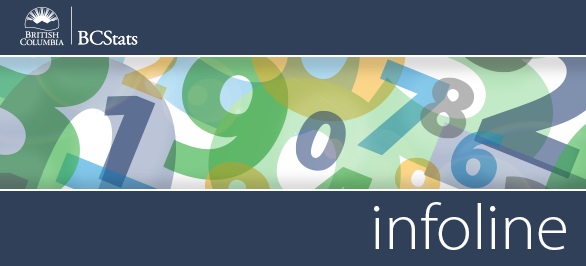 Infoline Highlights: Coverage for the week of April 8-12

Natural Resources - The value of Canada's timber, energy, and mineral resource assets nearly doubled (+91.7%) in 2017, reaching $715 billion. The increase was due to climbing prices for oil and minerals, and marks a substantial recovery from 2016, when the value of the nation's natural resources declined.
Read more >>
Price of New Housing - The cost of new housing in the province's capital city was higher in February than in the same month last year. The 1.2% increase in Victoria was the result of climbing housing prices (+1.5%) and land value (+0.6%).
Read more >>
Rail Transportation - Coal remained by far the leading commodity transported by rail both into and out of the province in 2017. Coal accounted for 48% of all commodities leaving B.C., while lumber, wood chips and pulp were far behind.
Read more >>
Building Permits - The value of building permits decreased 11.5% (seasonally adjusted) in February from the previous month. There were increases in permits for industrial (+38.3%), institutional (+32.1%), and commercial (+6.5%) buildings and a decrease in the value of residential (‑21.0%) projects.
Read more >>


Overall revenues for rail transportation in Canada jumped +7.6% to $14.9 billion in 2017 due to increased freight and passenger volumes.

Follow @BCStats on Twitter


Current Surveys
BC Council on Admissions & Transfer Survey of Mobile Students



BC Hydro Workforce Profile Survey
BC Public Service Exit Survey
BC Public Service New Job Survey
BC Student Outcomes Survey of Apprenticeship and Trades Training Students


BC Student Outcomes Survey of Diploma, Associate Degree and Certificate Students

Canada-BC Job Grant Outcomes Survey
FrontCounter BC Customer Satisfaction Survey
Labour Market Agreement for Persons with Disabilities Outcomes Survey


Long Term Disability (LTD) Application Process Survey
You can read more about any of these by visiting our Current and Recent Surveys page.



Did You Know
About 60% of Canadian children under the age of six participate in some kind of formal or informal childcare (not including occasional babysitting or kindergarten), with B.C. children's participation in child care slightly under the national average at 57.7%.
Source: Statistics Canada


Headlines
The value of Canada's natural resource assets almost doubled in 2017.

In February, the price of new housing in Victoria increased over February 2018.

The value of building permits in B.C. dropped in February from the month before.