Edition: April 9, 2018
Resources
News by Sector
Economy
Government Operations
Multiculturalism
Services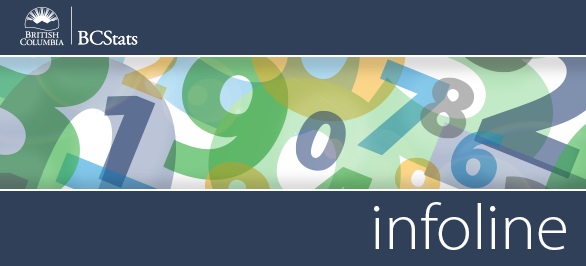 Infoline Highlights: Coverage for the week of April 3 - 6

Labour Force Survey- In March, the size of both the labour force (-2,100) and the number of employed (-3,900) were down slightly from February.
Read more >>
Exports- There was strong growth in shipments to Mainland China (+5.3%), Japan (+2.4%), South Korea (+4.7%) and exports to India skyrocketed (+625.8%).
Read more >>



@BCStats on Twitter
B.C.'s unemployment rate in March was 4.7%, the same as it was in February.

Follow @BCStats on Twitter


Current Surveys
BC Hydro Workforce Profile Survey
BC Public Service Exit Survey
BC Student Outcomes Survey of Apprenticeship and Trades Training Students
BC Student Outcomes Survey of Diploma, Associate Degree and Certificate Students
Canada-BC Job Grant Outcomes Survey
Community Gaming Grants Survey
FrontCounter BC Customer Satisfaction Survey
HealthLink BC 2018 Work Environment Survey
New Job Survey
Social Development and Poverty Reduction (SDPR) LMAPD Monthly Survey
Survey on Skills, Competencies and Characteristics for Future Workforce
The College of New Caledonia Work Environment Survey
U-Pass BC Survey
You can read more about any of these by visiting our Current and Recent Surveys page.



Did You Know
In 2016, British Columbia had the highest median contribution to RRSPs among provinces ($3,500), with 21.2% of all tax filers contributing to an RRSP. Vancouver had the highest median contribution to RRSPs ($4,000) among Census Metropolitan Areas.
Source: Statistics Canada


Headlines
There were more full-time jobs in March and fewer part-time jobs compared to February.

B.C. exports rose in the first two months of 2018 compared to a year earlier.