Edition: August 1, 2017
Resources
News by Sector
Economy
Government Operations
Multiculturalism
Services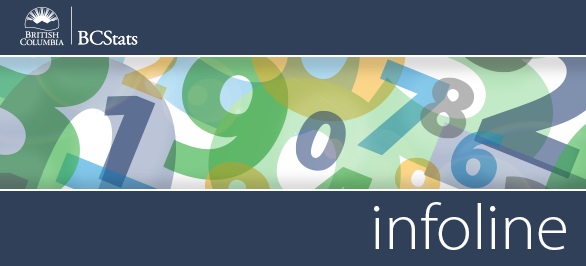 Infoline Highlights: Coverage for the week of July 24-28

Gross National Product (GDP) -Canadian real GDP by industry at basic prices (seasonally adjusted) advanced 0.6% in May, the seventh consecutive monthly increase in GDP.
Read more >>
Average Weekly Earnings - There was a small change in average weekly earnings of payroll employees in British Columbia in May (seasonally adjusted, current dollars), with wages in the province averaging $939.99, compared to $934.23 a month earlier.
Read more >>
Visitor Entries - Entries into B.C. of non-resident travelers fell 1.8% in May (seasonally adjusted), as an 8.5% drop in entries from countries other than the U.S. more than offset a marginal 0.9% increase in entries from the United States.
Read more >>
Non-residential Building Investment - Investment in non-residential building construction in B.C. rose 1.3% (seasonally adjusted) in the second quarter of 2017.
Read more >>
Manufacturing Sales - There was a 1.8% rise (seasonally adjusted) in sales by B.C. manufacturers in May, with growth in sales of both durable goods (+1.7%) and non-durable goods (+2.0%).
Read more >>
Employment Insurance - There were 1,850 fewer British Columbians receiving regular Employment Insurance (EI) benefits in May (-3.5%, seasonally adjusted), compared to April.
Read more >>




Current Surveys
Apprenticeship Student Outcomes (APPSO) Survey
Baccalaureate Graduate Survey
BC Hydro Workforce Profile Survey
BC Public Service Exit Survey
Canada-BC Job Grant Outcomes Survey
Diploma, Associate Degree, and Certificate Student Outcomes (DACSO) Survey
FrontCounter BC Customer Satisfaction Survey
Labour Market Agreement for Persons with Disabilities Outcome Survey
Long Term Disability (LTD) Application Process Survey
SDSI LMAPD Monthly Survey 2016-17
You can read more about any of these by visiting our Current and Recent Surveys page.



Did You Know
Canadians' daily carbohydrate intake has decreased slightly (1.4%) between 2004 and 2015, while their consumption of animal fat and protein has risen slightly (1%) over the same period.
Source: Statistics Canada


Headlines
The Canadian GDP by industry rose for the seventh month in a row.

Average weekly earnings in B.C rose slightly in May.

B.C. had fewer employment insurance recipients in May.