Edition: August 13, 2018
Resources
News by Sector
Economy
Government Operations
Multiculturalism
Services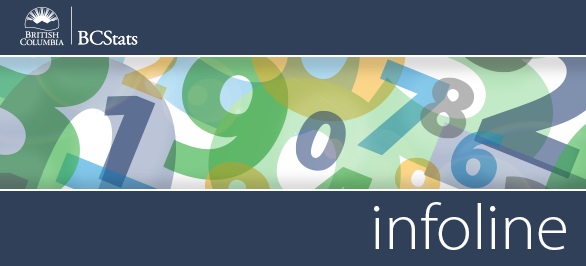 Infoline Highlights: Coverage for the week of August 6 - 10

Labour Force Survey - The unemployment rate in British Columbia was 5.0% in July, the lowest in Canada, and down from 5.2% in June. There were 9,600 full-time jobs added in July, while there were 1,600 more part-time jobs.
Read more >>
Building Permits - The value of building permits fell 1.8% (seasonally adjusted) in June from the previous month. An increase in permits for institutional (+8.8%) buildings could not offset decreases for industrial (‑40.4%), commercial (‑2.1%), and residential (‑0.2) projects.
Read more >>
Price of New Housing - Relative to the same month of 2017, the cost of new housing in B.C. continued to climb in June, rising by 3.2%, the largest increase among provinces.
Read more >>
Housing Starts - Housing starts in urban areas (areas with population of at least 10,000) in British Columbia grew by 24.0% (seasonally adjusted at annual rates) in July compared to June, making B.C. one of the four provinces that registered gains in the month.
Read more >>
Visitor Entries - In May, B.C. welcomed over 670 thousand non-resident travellers (seasonally adjusted), of which 71.8% were from the United States. Non-resident traveller entries to Canada through British Columbia went up (+0.7%) compared to the previous month.
Read more >>


@BCStats on Twitter
B.C. building permits fell 1.8% (seasonally adjusted) in June from the month before, due mainly to a decrease in industrial projects (‑40.4%).

Follow @BCStats on Twitter


Current Surveys
BC Apprenticeship Discontinuers Survey
BC Assessment Employee Engagement Pulse Survey

B.C. Cannabis Use Survey

BC Hydro Workforce Profile Survey
BC Public Service Exit Survey
Canada-BC Job Grant Outcomes Survey
FrontCounter BC Customer Satisfaction Survey
New Job Survey
Online Games Survey

You can read more about any of these by visiting our Current and Recent Surveys page.



Did You Know
The B.C. Traveller Accommodation Services Price Index went up by 4.0% in the second quarter of 2018 compared to the same period last year. The increase was driven by higher prices for both leisure (+2.6%) and business travellers (+6.0%).
Source: Statistics Canada



Headlines
British Columbia's unemployment rate was the lowest in Canada during the month of July.

The cost of new housing in B.C. went up between May and June.

Housing starts in urban areas in British Columbia grew in July compared to June.