Edition: August 15, 2016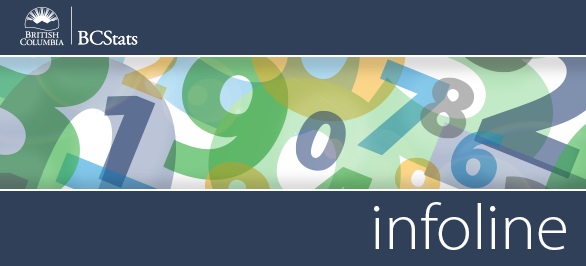 Infoline Highlights: Coverage for the week of August 8-12

Price of New Housing - The cost of new housing in B.C.'s two biggest cities continued to climb in June.
Read more >>
Housing Starts -Housing starts in B.C.'s urban centres (10,000+ population) were down 14.5% (seasonally adjusted annual rate) in July, joining a Canada-wide slowdown (-9.9%) in the number of housing starts.
Read more >>

Building Permits - The value of building permits issued in British Columbia declined 11.5% (seasonally adjusted) in June.
Read more >>


@BCStats on Twitter
New housing prices in Vancouver (+5.2%) and Victoria (+2.8%) were higher in June than in same month last year.
Follow @BCStats on Twitter


Current Surveys
Apprenticeship Student Outcomes (APPSO) Survey
Baccalaureate Graduate Survey
BC Hydro Workforce Profile Survey
BC Labour Market Agreement Outcomes Survey
BC Public Service Exit Survey
Canada-BC Job Grant Outcomes Survey

Diploma, Associate Degree, and Certificate Student Outcomes (DACSO) Survey
FrontCounter BC Customer Satisfaction Survey
HIBC Customer Experience Survey
Labour Market Agreement for Persons with Disabilities Outcome Survey
Long Term Disability (LTD) Application Process Survey

SDSI LMAPD Monthly Survey 2016-17
Service BC Centres In-Person Survey

You can read more about any of these by visiting our Current and Recent Surveys page.



Did You Know
18% of British Columbians aged 13+ have downloaded and played Pokémon GO. Of those, 40% say it's "taking over their life", and many say they've skipped day-to-day activities (32%) or missed school or work (12%) to play.
Source: Ipsos Canada


Headlines
The cost of new houses has risen in Vancouver and Victoria, even though land values remain the same.

Housing starts in Canada are down 14.5%.

The number of new building permits issued across Canada slowed 5.5% in June.