Edition: August 19-23, 2019
Resources
News by Sector
Economy
Government Operations
Multiculturalism
Services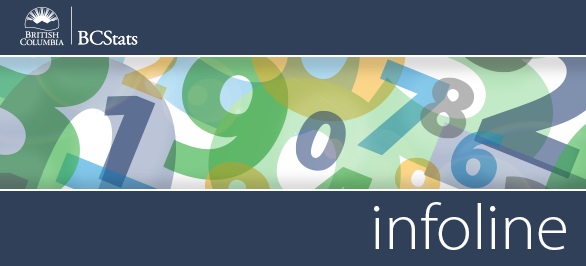 Infoline Highlights for the Week of August 19-23

Employment Insurance - The number of regular Employment Insurance (EI) recipients in B.C. crept up (+0.5% seasonally adjusted) to 40,670 in June. An increase in the number of male beneficiaries (+1.1%) was moderated by a slight decline among female recipients (-0.3%).
Read more >>
Wholesale Sales - Wholesale sales in the province edged up 0.2% (seasonally adjusted) in June. Strong sales in five subsectors nearly offset a substantial decline in building materials and supplies, one of the largest subsectors.
Read more >>
Visitor Entries - Visitor entries to B.C. from the U.S. and overseas was down slightly (-1.0%, seasonally adjusted) in June. Visits from overseas sources dipped 1.8%, and travel to B.C. from the U.S. also slowed (-0.7%).
Read more >>
Building Investment - Total investment in building construction in B.C. slipped 4.8% (seasonally adjusted) to $2.9 billion. On the residential side, investment in B.C. eased 7.5% in June, marking the third monthly decrease in investment in residential structures in 2019.
Read more >>
Consumer Price Index - British Columbia's consumer price index (CPI) was 2.1% higher (unadjusted) in July 2019 than in the same month of 2018. On a monthly basis, the rate of inflation rose 0.4% from June 2019.
Read more >>
Food Services and Drinking Places - Receipts at food services and drinking places receipts in B.C. continued to show strength in June, climbing 1.1% seasonally adjusted), building on a slight increase the previous month (+0.1%). Canadian sales were also higher (+1.0%) in June, with all but three provinces posting increases.
Read more >>
Manufacturing Sales - Manufacturing sales in British Columbia were slightly lower (-0.7%, seasonally adjusted) in June, following a 2.3% decrease in the previous month. Non-durables were down 3.1% as a result of weaker sales from producers of paper (-11.7%) and printing and related support activities (-2.7%) products.
Read more >>




Current Surveys
BC Hydro Workforce Profile Survey
BC Public Service Exit Survey
BC Public Service New Job Survey

BC Wildfire Service Auxiliary Work Environment



Canada-BC Job Grant Outcomes Survey
FrontCounter BC Customer Satisfaction Survey
Labour Market Agreement for Persons with Disabilities Outcomes Survey


Long Term Disability (LTD) Application Process Survey

WES Pulse Check

Workforce Development Agreement Outcomes

Workforce Development Agreement Employer Outcomes



You can read more about any of these by visiting our Current and Recent Surveys page.



Did You Know
B.C. is one of six provinces growing vinifera and French hybrid winemaking grapes, accounting for 27% of the total production, behind Ontario at 69%.
Source: Statistics Canada


Headlines
Investment in B.C.'s building contruction dipped in June.

B.C.'s inflation rate rose in July from July 2018.

Manufacturing sales in B.C. decreased slightly in June.