Edition: August 2, 2016
Resources
News by Sector
Economy
Government Operations
Multiculturalism
Services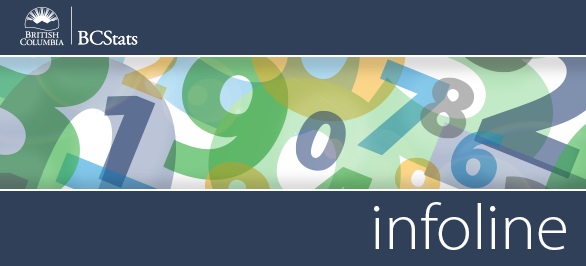 Infoline Highlights: Coverage for the week of July 25 - July 29

Food Services and Drinking Places - Receipts at food services and drinking places in B.C. were up 0.2% (seasonally adjusted) in May.
Read more >>
Industrial Product Price Index - Canadian manufacturers' prices were 0.8% lower this June than in the same month last year.
Read more >>

Gross Domestic Product (GDP) - Canada's economy shrunk in May, with real GDP dropping 0.6% (seasonally adjusted) from the previous month.
Read more >>
Tourism Room Revenues - Room revenues across the two biggest tourism regions in British Columbia continued to exhibit growth in the month of May.
Read more >>

Bankruptcies - The number of consumer bankruptcies in the province was notably lower in May (-7.5%, year-over-year).
Read more >>
Air Travel - In 2015, Canadian air carriers reported a 2.7% boost in passenger volume compared to 2014, with the total number of enplaned/deplaned passengers surpassing 133 million.
Read more >>


@BCStats on Twitter
Canadian air carriers saw passenger volume climb 2.7% in 2015, in part due to a 4.3% increase at YVR
Follow @BCStats on Twitter


Current Surveys
Apprenticeship Student Outcomes (APPSO) Survey
Baccalaureate Graduate Survey
BC Hydro Workforce Profile Survey
BC Labour Market Agreement Outcomes Survey
BC Public Service Exit Survey
Canada-BC Job Grant Outcomes Survey

Diploma, Associate Degree, and Certificate Student Outcomes (DACSO) Survey
FrontCounter BC Customer Satisfaction Survey
Long Term Disability (LTD) Application Process Survey

SDSI LMAPD Monthly Survey 2016-17
Service BC Centres In-Person Survey

You can read more about any of these by visiting our Current and Recent Surveys page.



Did You Know
In 2014, Canadian police services reported 206 violations of human trafficking in Canada, accounting for less than 1% of all police-reported crime.
Source: Statistics Canada


Headlines
Falling prices for energy and petroleum products, chemicals and ferrous/non-ferrous metals offset increases in nearly every other commodity group.

The GDP drop of 0.6% was the most substantial contraction to the Canadian economy since March 2009.

Passenger air travel has been on the rise for six consecutive years, since the economic slowdown of 2009.