Edition: August 20, 2018
Resources
News by Sector
Economy
Government Operations
Multiculturalism
Services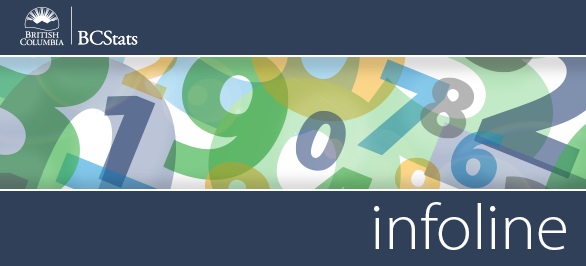 Infoline Highlights: Coverage for the week of August 13 - 17

Consumer Price Index (CPI) - British Columbia's consumer price index (CPI) was 3.3% higher (unadjusted) in July than in the same month of last year. On a monthly basis, the rate of inflation was up 0.9% from June 2018.
Read more >>
MLS Homes Sales and Prices - The number of home sales in B.C. went down by 23.9% in July compared to the same month last year, to reach 7,055 units. Unit sales fell in most areas of B.C., with the exception of the Northern (+22.5%) and Northern Lights (+27.3%) regions.
Read more >>
Manufacturing Sales - B.C. manufacturing sales (seasonally adjusted) went up by 1.7% in June compared to May. Higher sales of non-metallic mineral products (+11.0%), primary metal manufacturing (+10.6%), and wood products (+2.6%) contributed most to the monthly gain.
Read more >>


@BCStats on Twitter
Discover what B.C. post-secondary students said about their education, what they learned, and what they are doing now. Go to BC Student Outcomes - The 2017 Highlights

Follow @BCStats on Twitter


Current Surveys
BC Apprenticeship Discontinuers Survey
BC Assessment Employee Engagement Pulse Survey

B.C. Cannabis Use Survey

BC Hydro Workforce Profile Survey
BC Public Service Exit Survey
Canada-BC Job Grant Outcomes Survey
FrontCounter BC Customer Satisfaction Survey
New Job Survey
Online Games Survey

You can read more about any of these by visiting our Current and Recent Surveys page.



Did You Know
If there are two equal grocery products on the same shelf, 83% of Canadians would be more likely to choose the Canadian-made product over its American counterpart, with people from B.C. (90%) and Ontario (88%) most likely to buy Canadian. Many in Ontario (71%) and B.C. (60%) also report that this sentiment has increased over the past few months.
Source: Ipsos Canada



Headlines
B.C.'s consumer price index rose in July over June.

Housing sales in B.C. dropped in June from the same month the year before.

B.C.'s manufacturing sales rose in June compared to May.