Edition: August 21, 2017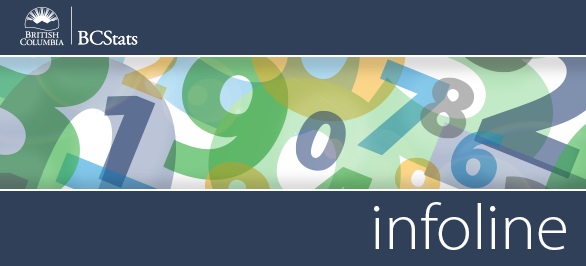 Infoline Highlights: Coverage for the week of August 14-18

Consumer Price Index (CPI) - British Columbia's consumer price index (CPI) rose 1.9% (unadjusted) in July compared to the same month of the previous year. This marks a small increase in the year-over-year rate of inflation since June, when it was 1.7 %. According to Statistics Canada, the overall annual inflation rate of 1.9% climbs to 2.1% when food is excluded from the index, and declines to 1.7% when energy is excluded.
Read more >>



@BCStats on Twitter
B.C.'s rate of inflation rose 1.9% in July compared to the previous year.

Follow @BCStats on Twitter


Current Surveys
Apprenticeship Student Outcomes (APPSO) Survey
Baccalaureate Graduate Survey
BC Hydro Workforce Profile Survey
BC Public Service Exit Survey
Canada-BC Job Grant Outcomes Survey
Diploma, Associate Degree, and Certificate Student Outcomes (DACSO) Survey
FrontCounter BC Customer Satisfaction Survey
Labour Market Agreement for Persons with Disabilities Outcome Survey
Long Term Disability (LTD) Application Process Survey
New Job Survey

SDSI LMAPD Monthly Survey 2016-17
2017 BC Wildfire Service Auxiliary Work Environment Survey

You can read more about any of these by visiting our Current and Recent Surveys page.



Did You Know
People in Victoria, B.C. were able to see 90% of the solar eclipse today, more than anywhere else in Canada.
Source: CBC


Headlines
B.C.'s Consumer Price Index rose in July.