Edition: August 22, 2016
Resources
News by Sector
Economy
Government Operations
Multiculturalism
Services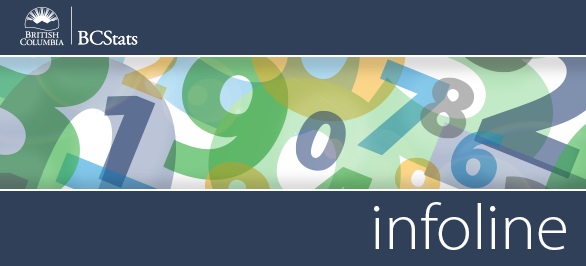 Infoline Highlights: Coverage for the week of August 15-19

Consumer Price Index Highlights - British Columbia's consumer price index (CPI) climbed 2.1% (unadjusted) in July, compared to the same month of the previous year.
Read more >>
Retail Sales -Sales by retailers in the province edged up (+0.2% seasonally adjusted) in June, mirroring a 0.1% decrease the previous month.
Read more >>

Employment Insurance -The number of British Columbians receiving regular employment insurance (EI) benefits dropped 2.1% (seasonally adjusted) in June, to 50,180, continuing on a downward trend that began in August 2015.
Read more >>
Visitor Entries -Visitor entries into Canada via B.C. climbed (+0.9%, seasonally adjusted) in June.
Read more >>
Manufacturing -B.C. manufacturing sales continued to seesaw in June, inching down 0.4% (seasonally adjusted) following a 1.1% rise in May.
Read more >>





Current Surveys
Apprenticeship Student Outcomes (APPSO) Survey
Baccalaureate Graduate Survey
BC Hydro Workforce Profile Survey
BC Labour Market Agreement Outcomes Survey
BC Public Service Exit Survey
Canada-BC Job Grant Outcomes Survey

Diploma, Associate Degree, and Certificate Student Outcomes (DACSO) Survey
FrontCounter BC Customer Satisfaction Survey
HIBC Customer Experience Survey
Labour Market Agreement for Persons with Disabilities Outcome Survey
Long Term Disability (LTD) Application Process Survey

SDSI LMAPD Monthly Survey 2016-17
Service BC Centres In-Person Survey

You can read more about any of these by visiting our Current and Recent Surveys page.



Did You Know
29% of British Columbians were not born in Canada. The three most common countries of birth of immigrants living in B.C. were China, India and the United Kingdom.
Source: Statistics Canada


Headlines
B.C.'s annual inflation rate inches up to 2.1% in July.

The number of British Columbians receiving EI benefits down 2.1% in June.

Visitor entries into Canada via B.C. climb 0.9% in June.