Edition: August 26-30, 2019
Resources
News by Sector
Economy
Government Operations
Multiculturalism
Services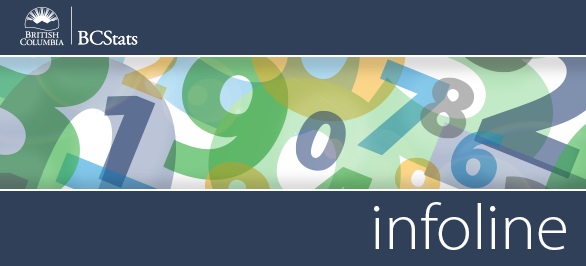 Infoline Highlights for the Week of August 26-30

Industrial Product Price Index - Prices for Canadian manufactured goods were 1.7% lower in July compared to the same month of 2018. A decline in prices for energy and petroleum (-7.8%) products was the main cause of the overall deflation.
Read more >>
Gross Domestic Product - The Canadian economy continued to expand in June, marking a fourth consecutive month of growth. Real GDP at basic prices rose 0.2% (seasonally adjusted).
Read more >>
Average Weekly Earnings - Average weekly earnings of payroll employees in British Columbia were $996.30 in June (seasonally adjusted, current dollars), $4.99 lower than in the previous month (-0.5%). Nationally, employee wages averaged $1,026.07, a decline of 0.5% over May.
Read more >>
Retail Sales - Retail sales in British Columbia stalled (-0.4%, seasonally adjusted) in June, following a similarly lacklustre May (-0.4%). Nationally, retail sales were relatively unchanged in June (-0.0%), as strength among most subsectors was counterbalanced by slowed sales at motor vehicle and parts dealers and gasoline stations.
Read more >>





Current Surveys
BC Hydro Workforce Profile Survey
BC Public Service Exit Survey
BC Public Service New Job Survey

BC Wildfire Service Auxiliary Work Environment



Canada-BC Job Grant Outcomes Survey
FrontCounter BC Customer Satisfaction Survey
Labour Market Agreement for Persons with Disabilities Outcomes Survey


Long Term Disability (LTD) Application Process Survey

WES Pulse Check

Workforce Development Agreement Outcomes

Workforce Development Agreement Employer Outcomes



You can read more about any of these by visiting our Current and Recent Surveys page.



Did You Know
There are about 19,000 businesses located in Indigenous communities across Canada, with almost half of these businesses found in Indigenous communities in B.C. (home to approximately 1/6 of the total Indigenous population in Canada).
Source: Statistics Canada


Headlines
The Industrial Product Price Index was lower in July than July 2018.

B.C. payroll employees earned less in June than in May.

Retail sales in B.C. were down in June.