Edition: August 27, 2018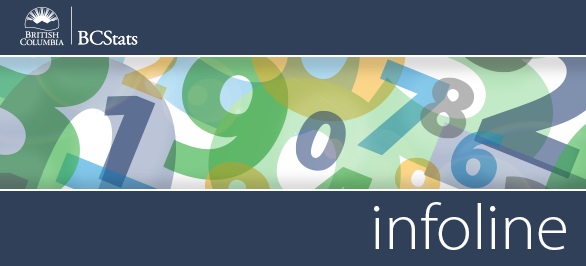 Infoline Highlights: Coverage for the week of August 20 - 24

Retail Sales - Retail sales in British Columbia (seasonally adjusted) went down by 1.8% in June compared to May, the largest decrease among provinces.
Read more >>
Wholesale Sales - Sales by wholesalers (seasonally adjusted) in British Columbia fell by 0.4% in June compared to the previous month, to reach $6.7 billion.
Read more >>
Employment Insurance - The number of people receiving employment insurance (EI) benefits in British Columbia decreased by 200 (‑0.5%) in June compared to May, to reach 40,970 individuals.
Read more >>
Food Services and Drinking Places - Revenues generated in British Columbia's food service and drinking places industry rose by 0.5% (seasonally adjusted) in June, led by increases in sales in full-service restaurants.
Read more >>


@BCStats on Twitter
Revenues for B.C.'s food services and drinking places rose by 0.5% in June over the month before, due in part to higher sales in full

‑

service restaurants.
Follow @BCStats on Twitter


Current Surveys
BC Apprenticeship Discontinuers Survey
BC Assessment Employee Engagement Pulse Survey

B.C. Cannabis Use Survey

BC Hydro Workforce Profile Survey
BC Public Service Exit Survey
Canada-BC Job Grant Outcomes Survey
FrontCounter BC Customer Satisfaction Survey
New Job Survey
Online Games Survey

You can read more about any of these by visiting our Current and Recent Surveys page.



Did You Know
The average life expectancy at birth in British Columbia between 2014 and 2016 was 82.5 years, the highest among provinces (tied with Ontario).
Source: Statistics Canada



Headlines
Retail and wholesale sales in B.C. went down in June compared to May.

Revenues generated in B.C.'s food service and drinking places industry rose in June.

The number employment insurance beneficiaries in B.C. decreased slightly in June compared to May.