Edition: August 28, 2017
Resources
News by Sector
Economy
Government Operations
Multiculturalism
Services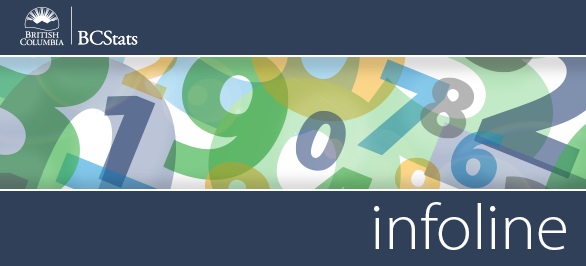 Infoline Highlights: Coverage for the week of August 21-25

Retail Sales - British Columbia's retailers saw a 1.9% increase in sales in June. Sales in all subsectors increased with the exception of sales in health and personal care stores, and clothing and clothing accessories stores. Notable gains were observed in food and beverage stores, electronics and appliance stores, and sporting goods, hobby, book and music stores.
Read more >>



@BCStats on Twitter
B.C.'s retail sales increased 1.9% in June, the highest increase of the provinces.

Follow @BCStats on Twitter


Current Surveys
Apprenticeship Student Outcomes (APPSO) Survey
Baccalaureate Graduate Survey
BC Hydro Workforce Profile Survey
BC Public Service Exit Survey
Canada-BC Job Grant Outcomes Survey
Diploma, Associate Degree, and Certificate Student Outcomes (DACSO) Survey
FrontCounter BC Customer Satisfaction Survey
Labour Market Agreement for Persons with Disabilities Outcome Survey
Long Term Disability (LTD) Application Process Survey
New Job Survey

SDSI LMAPD Monthly Survey 2016-17
2017 BC Wildfire Service Auxiliary Work Environment Survey

You can read more about any of these by visiting our Current and Recent Surveys page.



Did You Know
There are currently 154 forest fires burning in B.C., with 3,494 firefighters and other personel helping to contain them.
Source: BC Gov News


Headlines
Retail sales in B.C. rose in June.