Edition: August 29, 2016
Resources
News by Sector
Economy
Government Operations
Multiculturalism
Services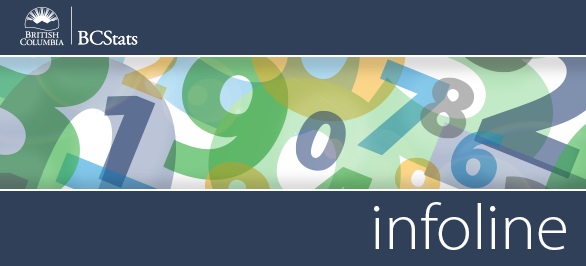 Infoline Highlights: Coverage for the week of August 22-26

Payroll Employment, Earnings and Hours - Average weekly earnings received by B.C. employees increased 0.8% (seasonally adjusted) in June.
Read more >>
Corporations -Canadian corporation profits continued to slide in the second quarter, falling 3.4% (seasonally adjusted).
Read more >>

Wholesale Sales -Revenues generated by wholesalers in British Columbia climbed 2.0% (seasonally adjusted) in June, marking the third consecutive monthly boost.
Read more >>


@BCStats on Twitter
B.C. wholesalers see sales climb for the third straight month in June (+2.0%).
Follow @BCStats on Twitter


Current Surveys
Apprenticeship Student Outcomes (APPSO) Survey
Baccalaureate Graduate Survey
BC Hydro Workforce Profile Survey
BC Labour Market Agreement Outcomes Survey
BC Public Service Exit Survey
Canada-BC Job Grant Outcomes Survey

Diploma, Associate Degree, and Certificate Student Outcomes (DACSO) Survey
FrontCounter BC Customer Satisfaction Survey
HIBC Customer Experience Survey
Labour Market Agreement for Persons with Disabilities Outcome Survey
Long Term Disability (LTD) Application Process Survey

SDSI LMAPD Monthly Survey 2016-17
Service BC Centres In-Person Survey

You can read more about any of these by visiting our Current and Recent Surveys page.



Did You Know
In 2011, 5.4% (232,290) of the population of British Columbia had an Aboriginal identity.
Source: Statistics Canada


Headlines
Labour income in B.C. has been rising in 2016, and June was no different.

Corporation profits fell slightly, due in part to losses in financial service industries.

Revenues from wholesale sales are rising both provincially and nationally.