Edition: August 4-7, 2020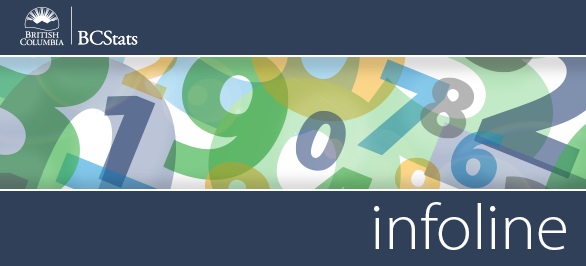 Infoline Highlights for the Week of August 4-7

Labour Force Survey - The unemployment rate in British Columbia was 11.1% in July, down 1.9 percentage points from June and up 6.6 percentage points from 12 months ago. In July, the labour force continued to increase (+20,000) after substantial declines in March and April, while the number of jobs grew as well (+70,200).
Read more >>
Exports - The value of B.C. origin exports dropped 15.0% year-to-date to June, compared to the same period a year earlier. There were declines in shipments to most of B.C.'s primary export markets including the United States (-8.6%), Mainland China (-14.2%), Japan (-10.9%), South Korea (-25.7%), the European Union (-38.4%), India (-48.2%), Taiwan (-17.7%) and the United Kingdom (-18.7%).
Read more >>





Current Surveys
BC Hydro Workforce Profile Survey
BC Public Service Exit Survey
BC Public Service New Job Survey

Workforce Development Agreement Outcomes

Workforce Development Agreement Employer Outcomes



You can read more about any of these by visiting our Current Surveys page.



Did You Know
9% of Canadian parents (13% of B.C. parents) participating in Statistics Canada's survey reported using child care during the pandemic. When child care services reopen, 34% of Canadian parents expect their child/children will attend, while 27% will not use them.
Source: Statistics Canada


Headlines
Unemployment in B.C. decreased between June and July.

The value of B.C. exports dropped in the first six months of 2020 compared to the same period in 2019.




COVID-19
BC Stats is working to produce data and information that helps government, business and public decision-makers understand the social and economic impacts of COVID-19.