Edition: August 5-9, 2019
Resources
News by Sector
Economy
Government Operations
Multiculturalism
Services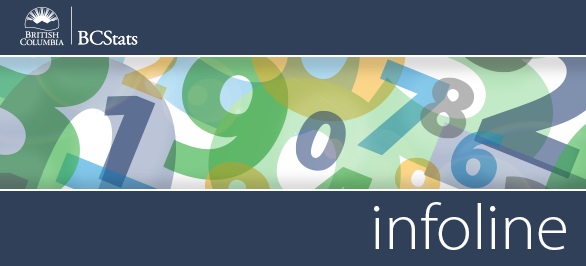 Infoline Highlights for the Week of August 5-9

Building Permits - The value of building permits in B.C. decreased nearly 50% in June from the previous month. An increase in permits for institutional (+118.2%) buildings could not offset decreases for residential (‑63.0%), industrial (‑43.7%), and commercial (‑17.7%) projects.
Read more >>
Labour Force Statistics - The unemployment rate in British Columbia was 4.4% in July, down slightly (-0.1 points) from June but a larger decline (-0.5 points) from 12 months ago. Overall, the labour force contracted (‑8,500) and there were fewer jobs (‑4,800) in July.
Read more >>
Price of New Housing - Relative to the same month of 2018, the cost of new housing in B.C.'s three largest cities continued to decline in June of 2019. Home builders in Victoria received 1.8% less for their projects, and Vancouver's housing price index was down 1.2%.
Read more >>




Current Surveys
BC Hydro Workforce Profile Survey
BC Public Service Exit Survey
BC Public Service New Job Survey

BC Wildfire Service Auxiliary Work Environment



Canada-BC Job Grant Outcomes Survey
FrontCounter BC Customer Satisfaction Survey
Labour Market Agreement for Persons with Disabilities Outcomes Survey


Long Term Disability (LTD) Application Process Survey

WES Pulse Check

Workforce Development Agreement Outcomes

Workforce Development Agreement Employer Outcomes



You can read more about any of these by visiting our Current and Recent Surveys page.



Did You Know
B.C. is expected to receive a record-breaking six million tourist visits this year, with an estimated 23 million trips to and within B.C. Social media has contributed to interest in the province as a vacation destination, with over five million people adding the hashtag #ExploreBC to their photos and videos of B.C.
Source: CBC


Headlines
The value of building permits in B.C. dropped in June.

In June, B.C.'s unemployment rate was lower than the month before.

The price of new housing in B.C. went down in June.