Edition: August 7, 2018
Resources
News by Sector
Economy
Government Operations
Multiculturalism
Services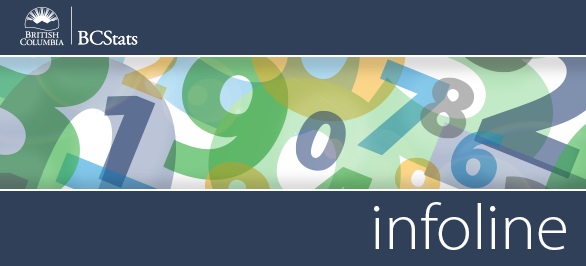 Infoline Highlights: Coverage for the week of July 30-August 3

Exports - The value of B.C. origin exports climbed 4.4% through the first two quarters of 2018, compared to the same six-month period a year earlier. This was despite a 1.9% decline in shipments to B.C.'s largest customer, the United States.
Read more >>
Bankruptcies - There were 396 bankruptcies filed by consumers in British Columbia in May, a slight (-4.8%) decrease from the same month of 2017. Meanwhile, the number of business bankruptcies was notably lower, falling 50.0% to six.
Read more >>
Tourism Room Revenues - For British Columbia, room revenues rose during the month of May. On a regional basis, Vancouver, Coast and Mountains (+25.9%), Thompson/Okanagan (+20.2%), The Islands (+17.5%), B.C. Rockies (+10.7%), and Northern B.C. (+8.0%) tourism regions all reported revenue increases compared to twelve months ago.
Read more >>
Gross Domestic Product - The Canadian economy continued to expand in May, with real GDP advancing 0.5% (seasonally adjusted) following a 0.1% gain in the prior month. The increase was widespread and reasonably distributed among a variety of sectors as only 1 of 20 industrial sectors reported a decline.
Read more >>
Industrial Product Price Index - Canadian manufacturers' selling prices climbed 5.1% in June, compared to the same month a year earlier. Rising prices for energy and petroleum products (+28.2%) were the major contributor for overall price growth in June.
Read more >>


@BCStats on Twitter
Canada's economy continued to grow, with the real gross domestic product (GDP) increasing (0.5%) in May for the third consecutive month.

Follow @BCStats on Twitter


Current Surveys
BC Apprenticeship Discontinuers Survey
BC Assessment Employee Engagement Pulse Survey

B.C. Cannabis Use Survey

BC Hydro Workforce Profile Survey
BC Public Service Exit Survey
BC Student Outcomes Survey of Apprenticeship and Trades Training Students
BC Student Outcomes Survey of Diploma, Associate Degree and Certificate Students
Canada-BC Job Grant Outcomes Survey
FrontCounter BC Customer Satisfaction Survey
New Job Survey
Online Games Survey

You can read more about any of these by visiting our Current and Recent Surveys page.



Did You Know
Cameras currently located in 140 of B.C.'s worst intersections will now run 24/7 instead the original six hours daily, in order to fully track driving speeds in these areas. Collisions in B.C. hit 350,000 in 2017 (up 25% from 2014), and 60% of those crashes occurred in intersections.
Source: CBC



Headlines
The value of B.C.'s exports rose in the first six months of 2018 over the same period last year.

Consumer bankruptcies in B.C. fell slightly in May over May 2017.

Room revenues across B.C. increased in May.