Edition: August 8, 2016
Resources
News by Sector
Economy
Government Operations
Multiculturalism
Services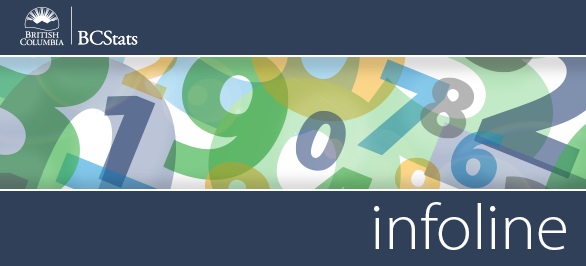 Infoline Highlights: Coverage for the week of August 1 - August 5

Exports - The value of B.C. origin exports inched down 0.2% in the first half of 2016, compared to the same six-month period in 2015. Shipments to most major export destinations declined, with the notable exceptions of the United States (+7.9%), India (+34.7%) and the United Kingdom (+2.6%).
Read more >>
Labour Force Statistics Highlights - The unemployment rate decreased 0.3 percentage points to 5.6%. The participation rate remained the same at 64.4%. The employment rate increased 0.2 percentage points to 60.8%.
Read more >>





Current Surveys
Apprenticeship Student Outcomes (APPSO) Survey
Baccalaureate Graduate Survey
BC Hydro Workforce Profile Survey
BC Labour Market Agreement Outcomes Survey
BC Public Service Exit Survey
Canada-BC Job Grant Outcomes Survey

Diploma, Associate Degree, and Certificate Student Outcomes (DACSO) Survey
FrontCounter BC Customer Satisfaction Survey
HIBC Customer Experience Survey – Citizens/Beneficiaries
Long Term Disability (LTD) Application Process Survey

SDSI LMAPD Monthly Survey 2016-17
Service BC Centres In-Person Survey

You can read more about any of these by visiting our Current and Recent Surveys page.



Did You Know
Most (64%) of the organ transplants performed in B.C. in 2015 were kidney transplants.
Source: BC Transplant
Prepared by: BC Stats


Headlines
B.C.'s softwood lumber exports rose 15.3% as lumber producers took advantage of a temporary free trade period for softwood lumber exports to the United States.

The unemployment rate in B.C. was lower last month compared to July of 2015.