Edition: December 10, 2018
Resources
News by Sector
Economy
Government Operations
Multiculturalism
Services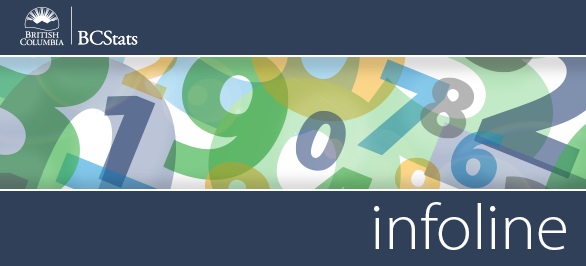 Infoline Highlights: Coverage for the week of December 3-7

Labour Force Statistics - The unemployment rate in British Columbia was 4.4% in November, up 0.3 percentage points from October and down 0.4 percentage points from 12 months ago. The labour force (+24,500) and employment (+15,900) increased from October.
Read more >>
Exports - The value of B.C. origin exports climbed 7.4% over the first ten months of 2018, compared to the same period a year earlier. Shipments to the U.S. rose 3.4%, while exports to Mainland China grew 8.8%.
Read more >>
Industrial Product Price Index (IPPI) - Canadian manufacturers' selling prices were 5.3% higher in October than in the same month of 2017. The increase was largely attributable to climbing prices for energy and petroleum products (+18.0%), but most major commodity groups also saw prices increase.
Read more >>


In addition to increased exports from B.C. to the U.S. and China, there was also strong growth in shipments to Japan (+12.3%), the EU (+14.5%), India (+64.0%) and Taiwan (+31.6%).

Follow @BCStats on Twitter


Current Surveys
Baccalaureate Graduates Survey

BC Hydro Workforce Profile Survey
BC Public Service Exit Survey
BC Public Service New Job Survey

Canada-BC Job Grant Outcomes Survey
FrontCounter BC Customer Satisfaction Survey

Long Term Disability (LTD) Application Process Survey
You can read more about any of these by visiting our Current and Recent Surveys page.



Did You Know
Most immigrants to Canada remained in the province that they were originally admitted to. 86% of immigrants who entered the country in 2011 were still filing 2016 tax returns in their original province, with Ontario (91%), Alberta (90%) and B.C. (87%) having the highest levels of retention.
Source: Statistics Canada



Headlines
B.C.'s unemployment rate rose slightly in November.

The value of B.C.'s exports grew year-to-date in October over the same period in 2017.

The IPPI increased in October over the same month the year before.