Edition: December 12, 2016
Resources
News by Sector
Economy
Government Operations
Multiculturalism
Services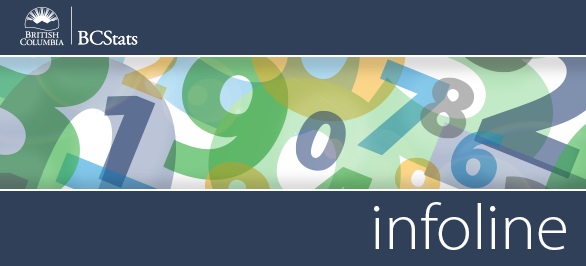 Infoline Highlights: Coverage for the week of December 5 - 9

Price of New Housing - The New Housing Price Index (NHPI)--contractors' selling prices for new homes (both house and land)--in British Columbia climbed 5.2% in October compared to October 2015. This was the 19th consecutive month of year-over-year increase in the New Housing Price Index (NHPI), dating back to April 2015.
Read more >>
Building Permits - The value of building permits issued by B.C. municipalities climbed (+7.2%, seasonally adjusted) in October, partially reversing a hefty decline in the previous month (-13.3% in September). Permits for both residential (+6.6%) and non-residential projects (+9.0%) were strong.
Read more >>
Co-Op Program Participation - Between 1986 and 2010, the proportion of graduates from B.C.'s postsecondary institutions who participated in a co-op program rose from 4% to 10% among college graduates (those with a college certificate or diploma), and from 4% to 18% among bachelor's graduates (those who completed a bachelor's degree).
Read more >>
Housing Starts - The number of urban (areas with population of at least 10,000) housing starts in B.C. surged 72.7% in November to 44,000 units (seasonally adjusted at annual rates), more than reversing the decline recorded in October (-44.9%).
Read more >>
Exports - Year-to-date to October, B.C. origin exports rose 6.0% compared to the same ten-month period in 2015. An 11.1% jump in shipments to the United States, B.C.'s largest trading partner, drove much of the increase, although there was also strong growth in exports to South Korea (+3.3%), the European Union (+6.2%) and India (+20.7%).
Read more >>
Labour Force Statistics Highlights - Revised December 5, 2012 - The unemployment rate in British Columbia was 6.1% in November, down from 6.2% in October. Even though employment dropped since the previous month (-9,300), the labour force as a whole decreased in size by a greater amount (-11,600).
Read more >>




Current Surveys
Apprenticeship Student Outcomes (APPSO) Survey
Baccalaureate Graduate Survey
BC Hydro Workforce Profile Survey
BC Labour Market Agreement Outcomes Survey
BC Public Service Exit Survey
Canada-BC Job Grant Outcomes Survey

Capilano University 2016 Employee Engagement Survey
Diploma, Associate Degree, and Certificate Student Outcomes (DACSO) Survey
FrontCounter BC Customer Satisfaction Survey
Labour Market Agreement for Persons with Disabilities Outcome Survey
Long Term Disability (LTD) Application Process Survey
North Island College 2016 Employee Engagement Survey

Procurement Transformation Survey (#BCTECH Strategy)
SDSI LMAPD Monthly Survey 2016-17
You can read more about any of these by visiting our Current and Recent Surveys page.



Did You Know
Dreaming of a sunny holiday this winter? You're not alone. 42% of Canadians are confident that they'll be heading off on a leisure holiday out of province for at least one week this winter (between December and March).
Source: Ipsos Canada


Headlines
The New Housing Price Index rose in October for the 19th consecutive month.

Post-secondary co-op participation has jumped between 1984 and 2010.

B.C. exports climbed 6.0% year-to-date to October.