Edition: December 15, 2014: Issue 14-49
Resources
Top News by Sector


Issue 14-49: Highlights
Income, Economic Families of Two or More Persons and Unattached Individuals - The median after-tax income for all family units in British Columbia was $51,200 (2012 constant dollars, includes government transfers) in 2012.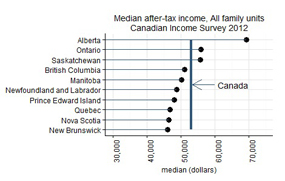 Building Permits - The value of building permits issued by municipalities in B.C. surged (+65.1%, seasonally adjusted) in October.


Current Surveys
Apprenticeship Student Outcomes (APPSO) Survey
Baccalaureate Graduate Survey
BC Hydro Workforce Profile Survey
BC International Student Survey
BC Labour Market Agreement Outcomes Survey
BC Public Service Exit Survey
Diploma, Associate Degree, and Certificate Student Outcomes (DACSO) Survey
FrontCounter BC Customer Satisfaction Survey
HealthLink BC and Seniors Advocate Survey 2014
Leveraging WES 2013: Learning from the Best
Long Term Disability (LTD) Application Process Survey
You can read more about any of these by visiting our Current and Recent Surveys page.