Edition: December 16-20, 2019
Resources
News by Sector
Economy
Government Operations
Multiculturalism
Services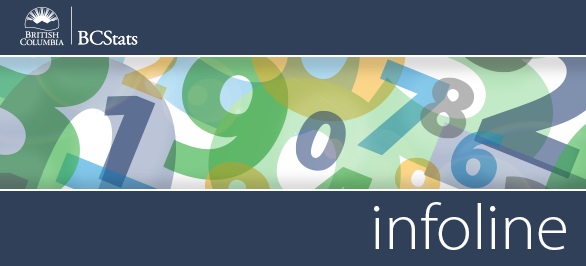 Infoline Highlights for the Week of December 16-20

Price of New Housing - The cost of new housing in the province's two largest cities was lower in November than in the same month last year. The 1.0% decrease in Victoria was the result of a decline in housing prices (-2.4%), as land value (+1.7%) was on the rise.
Read more >>
Retail Sales -Retail sales in British Columbia dipped 0.9% (seasonally adjusted) in October, following a lacklustre September (-0.2%). Nationally, retail sales were down 1.2%, due mostly to lower sales at motor vehicle and parts dealers and at building material and garden equipment and supplies dealers.
Read more >>
Visitor Entries - Visitor entries to B.C. from the U.S. and overseas declined in October (-1.7%, seasonally adjusted), reversing a 0.9% boost recorded in September. Entries from overseas sources were down 1.5% and travel to B.C. from the U.S. also slowed (-1.9%).
Read more >>
Wholesale Sales - Wholesale sales in the province dipped 3.8% (seasonally adjusted) in October. Weakened sales in most subsectors, most markedly for the personal and household goods and food, beverage and tobacco subsectors, explained the decrease.
Read more >>
Average Weekly Earnings - Average weekly earnings of payroll employees in British Columbia climbed $4.33 (+0.4%) to $1,012.45 (seasonally adjusted, current dollars) in October. At the industrial level, earnings were up most notably in utilities (+2.9%) and finance and insurance (+4.1%).
Read more >>
French Language - In 2016, Census data identified 64,320 individuals in British Columbia (1.4% of the total population) who indicated that French was their first official language. This is compared to the overall Canadian population.
Read more >>
Food Services and Drinking Places - Receipts at food services and drinking places in B.C. were down 0.5% (seasonally adjusted) in October. Canadian establishments saw receipts stall (+0.0%) as revenues were down in five provinces.
Read more >>
Employment Insurance - The number of regular Employment Insurance (EI) recipients in B.C. increased (+1.3% seasonally adjusted) to 41,090 in October. A 0.5% decline in the number of younger beneficiaries (aged 15 to 24 years) was offset by higher numbers among older recipients.
Read more >>
Manufacturing Sales - Manufacturing sales in B.C. dipped 3.6% (seasonally adjusted) in October. Sales of manufactured paper products were down for the third straight month (-13.0%), helping to drive total receipts for non-durables 7.4% lower.
Read more >>
Consumer Price Index - British Columbia's consumer price index (CPI) was 2.2% higher (unadjusted) in November 2019 than in the same month of 2018. On a monthly basis, the CPI dropped 0.3% from October 2019.
Read more >>





Current Surveys
Active Transportation Strategy Survey



BC Hydro Workforce Profile Survey
BC Public Service Exit Survey
BC Public Service New Job Survey

BC Student Outcomes Survey of Baccalaureate Graduates




BC Wildfire Service Auxiliary Work Environment

Capilano University Employee Engagement

City of Victoria Business Survey

Fraser Basin Council Non-Residential Flood Vulnerability




Long Term Disability (LTD) Application Process Survey

OCIO ES Client Satisfaction Survey




Workforce Development Agreement Outcomes

Workforce Development Agreement Employer Outcomes



You can read more about any of these by visiting our Current Surveys page.



Did You Know
Infoline is taking a break for the holidays. Our regular format will resume in the new year. Best wishes for a happy holiday season and a wonderful New Year from all of us at BC Stats!



Headlines
The price of new housing in Vancouver and Victoria declined in November from the month before.

Payroll employees in B.C. earned more in October than September.

B.C.'s CPI was higher in November than the same period in 2018.