Edition: December 17, 2018
Resources
News by Sector
Economy
Government Operations
Multiculturalism
Services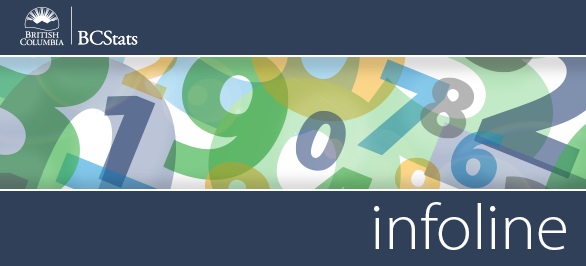 Infoline Highlights: Coverage for the week of December 10-14

Price of New Housing - The cost of new housing in the province's three largest cities was higher in October than in the same month last year. The 1.1% increase in Victoria was mostly the result of a climb in housing prices (+1.3%), but land value (+0.6%) was also higher.
Read more >>
Household Spending - Spending by households in British Columbia averaged $71,001 in 2017, slightly more than the national average of $63,723. Alberta ($72,957) was the only province where household expenditures were higher than those in B.C.
Read more >>
Building Permits - The value of building permits increased 3.0% (seasonally adjusted) in October from the previous month. An increase in permits for residential (+14.5%) buildings offset decreases in industrial (‑27.2%), commercial (‑24.7%), and institutional (‑14.2%) projects.
Read more >>


The value of building permits in B.C. rose 3.0% in October from September, partly due to an increase in the value of residential building permits (14.5%).

Follow @BCStats on Twitter


Current Surveys
Baccalaureate Graduates Survey

BC Hydro Workforce Profile Survey
BC Public Service Exit Survey
BC Public Service New Job Survey

Canada-BC Job Grant Outcomes Survey
FrontCounter BC Customer Satisfaction Survey

Long Term Disability (LTD) Application Process Survey
You can read more about any of these by visiting our Current and Recent Surveys page.



Did You Know
There are over 1.7 million residential properties in B.C., with 9.8% of these owned by non-individuals (businesses, non-profits, governments). The non-individual-owned residential properties are most likely to be vacant lots (53.2%) or condos (18.3%), and one in four are located in Metro Vancouver.
Source: Statistics Canada



Headlines
The price of new housing in Vancouver, Victoria and Kelowna was higher in October than it was in October 2017.

B.C.'s household spending in 2017 was the second highest in Canada.

B.C.'s building permits rose in value in October over the month before.