Edition: December 19, 2016
Resources
News by Sector
Economy
Government Operations
Multiculturalism
Services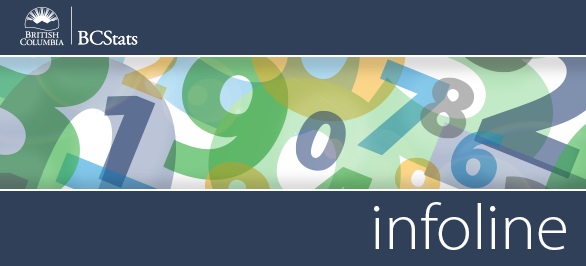 Infoline Highlights: Coverage for the week of December 12 - 16

Quarterly Population Highlights - The population of B.C. was estimated at 4,773,345 as of October 1, 2016, growing by 21,733 persons in the third quarter of 2016 (up 0.5% from July 1, 2016). This is the largest third quarter growth recorded since 2009.
Read more >>
Manufacturing Sales - Manufacturing sales in the province inched down 0.5% (seasonally adjusted) in October, mirroring a 0.4% increase in the previous month. Non-durables were off slightly (-0.3%), mostly as a result of weaker sales by food (-0.1%) and paper (-6.4%) producers.
Read more >>
Impaired Driving - Police in British Columbia recorded 11,652 instances of impaired driving in 2015. Reported instances of impaired driving occurred at a rate of 249 people per 100,000 of the population.
Read more >>


@BCStats on Twitter
B.C.'s population grew by another 0.5% in the third quarter of 2016, the strongest third quarter growth since 2009.
Follow @BCStats on Twitter


Current Surveys
Apprenticeship Student Outcomes (APPSO) Survey
Baccalaureate Graduate Survey
BC Hydro Workforce Profile Survey
BC Public Service Exit Survey
Canada-BC Job Grant Outcomes Survey

Diploma, Associate Degree, and Certificate Student Outcomes (DACSO) Survey
FrontCounter BC Customer Satisfaction Survey
Labour Market Agreement for Persons with Disabilities Outcome Survey
Long Term Disability (LTD) Application Process Survey
Procurement Transformation Survey (#BCTECH Strategy)
SDSI LMAPD Monthly Survey 2016-17
You can read more about any of these by visiting our Current and Recent Surveys page.



Did You Know
Best wishes for a Merry Christmas and Happy New Year from all of us at BC Stats! We're taking a break for the holidays. Our regular e-newsletter format will resume on January 3rd, 2017 and will include Infoline coverage from December 19th to 30th, 2016.


Headlines
B.C.'s population grew .5% since July.

Manufacturing sales in B.C. dropped slightly in October.

B.C. had 11, 562 impaired driving instances in 2015