Edition: December 2-6, 2019
Resources
News by Sector
Economy
Government Operations
Multiculturalism
Services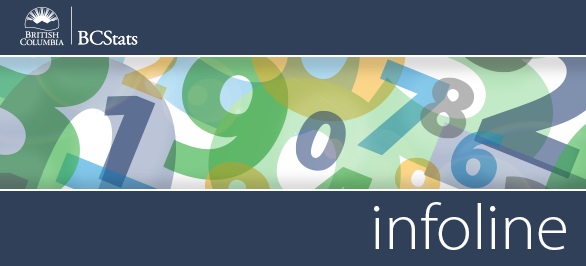 Infoline Highlights for the Week of December 2-6

Labour Force Survey - The unemployment rate in British Columbia was 5.0% in November, up 0.3 percentage points from October and up 0.6 percentage points from 12 months ago. Overall in November, the labour force contracted (‑10,700) and there were fewer jobs (‑18,200).
Read more >>
Exports - The value of B.C. origin exports fell 5.9% year-to-date to October, compared to the same ten-month period a year earlier. There were declines in exports to most of B.C.'s largest trading partners, including the United States (-4.9%), Mainland China (-1.3%), Japan (-14.6%), South Korea (-4.1%), the European Union (-9.7%) and Taiwan (-11.8%).
Read more >>
Gross Domestic Product - Canadian real gross domestic product (GDP) rose 0.1% (seasonally adjusted) in September, the third month in a row of 0.1% gains. GDP in goods-producing industries edged up 0.1%. Construction (+0.6%) and mining, quarrying, and oil and gas extraction (+0.2%) were up...
Read more >>
Homicide - Police services in British Columbia reported 89 homicides during 2018, making for a homicide rate of 1.78 per 100,000 population. This was down notably from 2017, when there were 119 homicides and a rate of 2.42. B.C.'s homicide rate has been generally trending downward since the 1990s, with mostly slight year-to-year fluctuations in the rate since then.
Read more >>




Current Surveys
Active Transportation Strategy Survey



BC Hydro Workforce Profile Survey
BC Public Service Exit Survey
BC Public Service New Job Survey

BC Student Outcomes Survey of Baccalaureate Graduates




BC Wildfire Service Auxiliary Work Environment

Capilano University Employee Engagement

City of Victoria Business Survey

Fraser Basin Council Non-Residential Flood Vulnerability




Long Term Disability (LTD) Application Process Survey

OCIO ES Client Satisfaction Survey




Workforce Development Agreement Outcomes

Workforce Development Agreement Employer Outcomes



You can read more about any of these by visiting our Current Surveys page.



Did You Know
The average price of eggs received by Canadian farmers at the end of 2018 is $1.63, with Newfoundland ($1.94) and B.C. ($1.82) paying the highest amount. The number of eggs available for consumption in 2018 was about 21 dozen per person, an increase of 30.4% from 2008.



Headlines
The unemployment rate in B.C. was higher in November than the month before.

The value of B.C.'s exports dropped between January - October, compared to the same period in 2018.

Canada's GDP increased in September for the third month in a row.