Edition: December 20-January 3, 2020
Resources
News by Sector
Economy
Government Operations
Multiculturalism
Services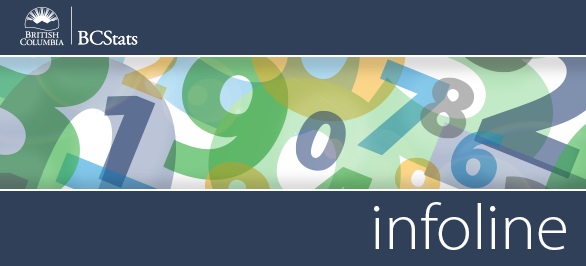 Infoline Highlights for the Week of December 30-January 3

Quarterly Population Highlights - The population of B.C. was estimated at 5,105,576 as of October 1, 2019, growing by 34,240 persons in the third quarter of 2019 (up 0.68% from July 1, 2019). Combined net in-migration from all sources (inter-provincial and international) totalled 31,668 persons during the third quarter of 2019, up over 30% from the same quarter in 2018. Most of the population growth in the third quarter was due to international immigration.
Read more >>




Current Surveys
Active Transportation Strategy Survey



BC Hydro Workforce Profile Survey
BC Public Service Exit Survey
BC Public Service New Job Survey

BC Student Outcomes Survey of Baccalaureate Graduates




BC Wildfire Service Auxiliary Work Environment

Capilano University Employee Engagement

City of Victoria Business Survey

Fraser Basin Council Non-Residential Flood Vulnerability




Long Term Disability (LTD) Application Process Survey

OCIO ES Client Satisfaction Survey




Workforce Development Agreement Outcomes

Workforce Development Agreement Employer Outcomes



You can read more about any of these by visiting our Current Surveys page.



Did You Know
English-French bilingualism among children (5 to 17 years old) in Canada is on the rise, growing 5% between 2006 and 2016 within Quebec, and 3% in the rest of Canada. However, some of the lowest rates of growth were seen in the West - B.C. had 1% growth in children's bilingualism over that period, and Alberta and Saskatewan both saw no growth.

Source: Statistics Canada


Headlines
B.C.'s population grew in the third quarter of 2019.