Edition: December 24, 2018
Resources
News by Sector
Economy
Government Operations
Multiculturalism
Services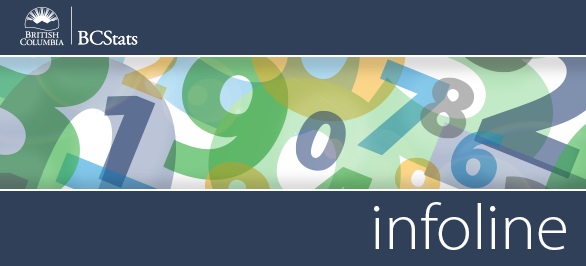 Infoline Highlights: Coverage for the week of December 17-21

Retail Sales - Sales by retailers in the province edged 0.4% higher (seasonally adjusted) in October, on the strength of higher sales at motor vehicle and parts dealers.
Read more >>
Gross Domestic Product - Canadian real GDP by industry at basic prices increased 0.3% (seasonally adjusted) in October, following a 0.1% decline in the previous month.
Read more >>
Average Weekly Earnings - Payroll employees in British Columbia saw their average weekly earnings climb 2.7% in the 12 months to October 2018, to $978.
Read more >>
Wholesale Sales - Sales by wholesalers in the province stalled for the second consecutive month in October (-0.6%, seasonally adjusted), due in large part to a slowdown in the machinery, equipment and supplies subsector.
Read more >>
Visitor Entries - International visitor entries to Canada through British Columbia increased (+1.0%, seasonally adjusted) in October, as the number of visitors from the U.S. continued to climb (+1.1%).
Read more >>
Quarterly Population Highlights - The population of B.C. was estimated at 5,016,322 as of October 1, 2018, growing by 24,635 persons in the third quarter of 2018 (up 0.49% from July 1, 2018).
Read more >>
Consumer Price Index - British Columbia's consumer price index (CPI) was 2.4% higher (unadjusted) in November than in the same month of last year. On a monthly basis, the rate of inflation was down 0.4% from October 2018.
Read more >>
Manufacturing Sales - Manufacturing sales in B.C. inched down 0.9% (seasonally adjusted) in October.
Read more >>
Employment Insurance - The number of British Columbians receiving regular Employment Insurance (EI) benefits dropped 2.4% (seasonally adjusted) in October, to 36,670.
Read more >>
Food Services and Drinking Places - October sales at food services and drinking places in B.C. were relatively unchanged (+0.1%, seasonally adjusted) from September.
Read more >>


For the first time in British Columbia's history, the population of the province has surpassed 5 million people.

Follow @BCStats on Twitter


Current Surveys
Baccalaureate Graduates Survey

BC Hydro Workforce Profile Survey
BC Public Service Exit Survey
BC Public Service New Job Survey

Canada-BC Job Grant Outcomes Survey
FrontCounter BC Customer Satisfaction Survey

Long Term Disability (LTD) Application Process Survey
You can read more about any of these by visiting our Current and Recent Surveys page.




Headlines
Canadian GDP up a solid 0.3% in October.

Retail sales climbed in October, while wholesale sales stalled.

B.C.'s population exceeds 5 million in the third quarter of 2018.