Edition: December 3, 2018
Resources
News by Sector
Economy
Government Operations
Multiculturalism
Services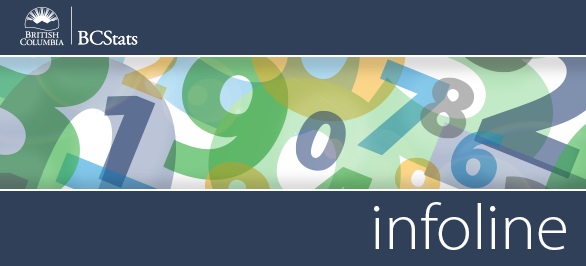 Infoline Highlights: Coverage for the week of November 26-30

Gross Domestic Product (GDP) - The Canadian economy contracted in September, following seven consecutive months of growth. On an industry level, real GDP at basic prices (seasonally adjusted) was down 0.1 %, primarily due to weakness in the goods-producing industries, which shrank 0.7% in September, following a 0.3% drop in the previous month.
Read more >>
Tourism Room Revenues - Overall room revenues in British Columbia rose during the month of September compared to the same month last year. On a regional basis, Northern B.C. (+18.2%), B.C. Rockies (+10.6%), Vancouver, Coast, and Mountains (+8.3%) and The Islands (+2.7%) all reported growth in room revenues while Thompson/Okanagan (-4.1%) saw a revenue decline compared to twelve months ago.
Read more >>
Average Weekly Earnings - Average weekly earnings (including overtime) of payroll employees in British Columbia slipped 2.2% in September to $978.10 (seasonally adjusted, current dollars). This was the first decline after four consecutive months of growth.
Read more >>
Hate Crime - In 2017, police services in British Columbia reported a total of 255 hate crimes, up from 211 in 2016. Hate crimes in the province were most commonly motivated by race or ethnicity (45%), religion (40%) and sexual orientation (7%).
Read more >>
Aquaculture - In 2017, total production from British Columbia's aquaculture producers, at 96,608 tonnes, was down slightly (-5.6%) from 2016 levels. Despite increased output of clams and scallops, overall shellfish production dipped 9.4%, the result of slowed production of mussels and oysters.
Read more >>


@BCStats on Twitter
In 2017, B.C.'s aquaculture production dropped slightly (-5.6%) from 2016 levels, in part due to a decline in finfish (salmon, trout, steelhead, etc) production.



Follow @BCStats on Twitter


Current Surveys
Baccalaureate Graduates Survey

BC Hydro Workforce Profile Survey
BC Public Service Exit Survey
BC Public Service New Job Survey

Canada-BC Job Grant Outcomes Survey
FrontCounter BC Customer Satisfaction Survey

Long Term Disability (LTD) Application Process Survey

OCIO Client Satisfaction Survey



Online Games Survey

School District #72 (Campbell River) Employee Engagement Survey



You can read more about any of these by visiting our Current and Recent Surveys page.



Did You Know
Statistics Canada is sampling waterwaste in five major cities across Canada to measure cannabis use before and after legalization. The first round of data shows that of the five - Halifax, Montreal, Toronto, Edmonton and Vancouver - Halifax had the highest rate of cannabis use per capita, and Vancouver had the least.
Source: Statistics Canada



Headlines
The GDP dropped in September after seven months of growth.

B.C.'s room revenues increased in September over the same month last year.

Payroll employees in B.C. earned slightly less in September compared to the month before.