Edition: December 4, 2017
Resources
News by Sector
Economy
Government Operations
Multiculturalism
Services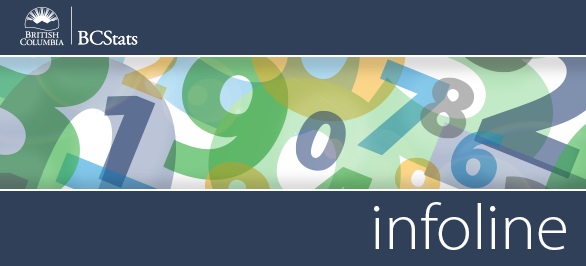 Infoline Highlights: Coverage for the week of November 27- December 1

Census 2016: Highlights from the Labour in Canada Release - The unemployment rate in B.C. was 6.7% in 2016. The unemployment rate for youth (people between 15 and 24 years old) was 12.8%, compared to 5.8% for people between 25 and 64 years of age.
Read more >>
Labour Force Survey - The unemployment rate in British Columbia was 4.8% in November, down 0.1 percentage points from October and below the 6.1% it was 12 months ago. Compared to the previous month, the labour force grew (+16,500), there was an increase in employment (+18,200) and a small drop in the number of unemployed (-1,700).
Read more >>
Average Weekly Earnings - Average weekly earnings of payroll employees in British Columbia (seasonally adjusted, current dollars) went up by $7.94 (+0.8%) to reach $946.95 in September. Compared to September 2016, average weekly earnings in British Columbia increased by 2.9%, ranking fourth among provinces.
Read more >>
Bankruptcies - In September 2017, there was a decrease of 8.4% in overall bankruptcies compared to September 2016. Of the 329 bankruptcies, nine were filed by businesses, a reduction of 10.0% compared to the 10 business bankruptcies registered in September last year.
Read more >>
Census 2016: Highlights from the Journey to Work Release - Since 2006, the number of commuters rose by 10.7% to 2.1 million. In 2016, about three quarters of commuters used a car either as a driver (+70.5%) or a passenger (5.5%), compared to 79.3% in 2006.
Read more >>
2016 Census: Highlights from the Education in Canada Release -
Educational attainment has gone up in British Columbia since 2006. In 2016, 88.1% of people aged 25 to 64 had a high school diploma or equivalency certificate, compared with 84.3% in 2006.
Read more >>
Tourism Room Revenues - For most of British Columbia, room revenues rose during the month of September. On a year-over-year basis, B.C. Rockies (+9.4%), Vancouver, Coast and Mountains (+6.3%), Thompson/Okanagan (+5.7%), and The Island (+5.6%) tourism regions all reported increases in revenues, while the Northern B.C. (‑2.2%) tourism region saw a decrease in room revenue.
Read more >>
Industrial Product Price Index - Canadian manufacturers' selling prices climbed 1.8% in October, compared to the same month a year earlier. Rising prices for energy and petroleum products (+8.8%) were the major contributor for overall price growth in October.
Read more >>



@BCStats on Twitter
In 2016, 29% of British Columbians had a bachelor degree or higher, 5.7% more than in 2006.

Follow @BCStats on Twitter


Current Surveys
Baccalaureate Graduate Survey
BC Hydro Workforce Profile Survey
BC Public Service Exit Survey
Canada-BC Job Grant Outcomes Survey
Camosun College 2017 Employee Engagement Survey
Capilano 2017 Employee Engagement Survey

Elections BC Voters List Quality Survey
FrontCounter BC Customer Satisfaction Survey
Labour Market Agreement for Persons with Disabilities Outcome Survey
Local Food Survey

Long Term Disability (LTD) Application Process Survey
New Job Survey
Simon Fraser University Employee Engagement Survey

SDSI LMAPD Monthly Survey 2016-17
You can read more about any of these by visiting our Current and Recent Surveys page.



Did You Know
The devastating emergencies and natural disasters that have taken place around the world over the past year have resulted in 76% of British Columbians feeling more compelled than ever to donate to charities or volunteer their time, ahead of the rest of Canada (63%).
Source: Ipsos Canada


Headlines
B.C.'s unemployment rate fell in October.

Between 2006 and 2016, the number of people commuting in B.C. rose.

Educational attainment in B.C. increased between 2006 and 2016.