Edition: December 5, 2016
Resources
News by Sector
Economy
Government Operations
Multiculturalism
Services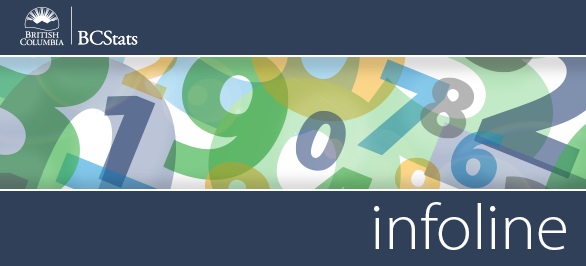 Infoline Highlights: Coverage for the week of Nov. 28 - Dec. 2

Labour Force Statistics - The unemployment rate in British Columbia was 6.1% in November, down from 6.2% in October. Even though employment dropped since the previous month (-9,300), the labour force as a whole decreased in size by a greater amount (-11,600).
Read more >>
Gross Domestic Product (GDP) - Canadian real GDP by industry at basic prices (seasonally adjusted) advanced 0.3% in September following three consecutive monthly increases in June (+0.6%), July (+0.5%) and August (+0.2%). The continued economic growth was largely due to ongoing gains in the goods-producing industries, which expanded 1.1% in September, led by a 2.7% increase in mining, quarrying and oil & gas extraction.
Read more >>
Bankruptcies - The number of bankruptcies registered by B.C. businesses (-47.8%) and consumers (-24.3%) dropped in September of 2016 from the same period a year prior. The number of Canadian bankruptcies filed by businesses was down (-17.6%) over the same period, with just under half being in the construction, retail trade and accommodation and food services sectors.
Read more >>
Industrial Product Price Index (IPPI) - Canadian manufacturers' prices were higher (+0.7%) this October than in the same month of 2015. A 5.0% year-over-year upturn in the price of energy and petroleum products was the largest contributor to the overall increase, and price boosts for chemicals (+1.0%) and motorized and recreational vehicles (+0.7%) also exerted upward pressure.
Read more >>
Food Services and Drinking Places - Sales at British Columbia's food services and drinking places rose 2.5% (seasonally adjusted) to $910 million in September. Nationally, industry sales were up 1.6% (to $5.5 billion) with only Alberta (-1.4%), Newfoundland and Labrador (-1.4%) and New Brunswick (-0.7%) recording lower revenues.
Read more >>


@BCStats on Twitter
Sales at B.C.'s food services and drinking places went up 2.5% in September.
Follow @BCStats on Twitter


Current Surveys
Apprenticeship Student Outcomes (APPSO) Survey
Baccalaureate Graduate Survey
BC Hydro Workforce Profile Survey
BC Labour Market Agreement Outcomes Survey
BC Public Service - Career Development and Opportunities Survey
BC Public Service Exit Survey
Canada-BC Job Grant Outcomes Survey

Capilano University 2016 Employee Engagement Survey
Diploma, Associate Degree, and Certificate Student Outcomes (DACSO) Survey
FrontCounter BC Customer Satisfaction Survey
Labour Market Agreement for Persons with Disabilities Outcome Survey
Long Term Disability (LTD) Application Process Survey
North Island College 2016 Employee Engagement Survey

Procurement Transformation Survey (#BCTECH Strategy)
SDSI LMAPD Monthly Survey 2016-17
You can read more about any of these by visiting our Current and Recent Surveys page.



Did You Know
The cold, winter weather is upon us, and many of us are spending more time indoors watching TV. However, these days, American, British and Canadian children 12 years old and under are spending less time watching TV, and more time (72% of their daily content-watching time) getting content from a streaming source such as Netflix, Shomi, Hulu, Amazon Prime or YouTube.
Source: Ipsos Canada


Headlines
The rate of unemployment in B.C. dropped slightly in November.

Canadian real GDP by industry at basic prices (seasonally adjusted) rose for the fourth month in a row.

The Industrial Product Price Index (IPPI) was higher in October than in the same month of 2015.