Edition: December 9-13, 2019
Resources
News by Sector
Economy
Government Operations
Multiculturalism
Services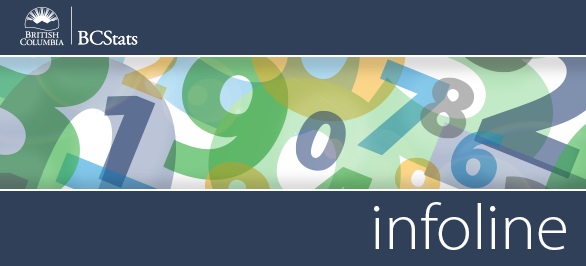 Infoline Highlights for the Week of December 9-13

Building Permits - The value of building permits issued by B.C. municipalities declined 21.2% (seasonally adjusted) in October, following a 6.9% boost recorded in September. The decrease reflects a dip in the value of permits for both the non-residential (-48.3%) and residential (-1.8%) sectors. Commercial projects (-58.9%) posted the most significant drop, but planned activity for the industrial (-21.2%) sector was also down notably.
Read more >>
Family Violence - In 2018, there were approximately 5,800 child and youth victims (aged 17 and younger) of police-reported violence in British Columbia. Of these victims, 59% were female and 41% were male. Nearly a third (30%) of child and youth victims of police-reported violence in the province were victimized by a family member.
Read more >>




Current Surveys
Active Transportation Strategy Survey



BC Hydro Workforce Profile Survey
BC Public Service Exit Survey
BC Public Service New Job Survey

BC Student Outcomes Survey of Baccalaureate Graduates




BC Wildfire Service Auxiliary Work Environment

Capilano University Employee Engagement

City of Victoria Business Survey

Fraser Basin Council Non-Residential Flood Vulnerability




Long Term Disability (LTD) Application Process Survey

OCIO ES Client Satisfaction Survey




Workforce Development Agreement Outcomes

Workforce Development Agreement Employer Outcomes



You can read more about any of these by visiting our Current Surveys page.



Did You Know
The percentage of adults (25-64 years old) without a high school diploma in Canada is 8%. B.C. (6%) has the lowest percentage of non-high school graduates.



Headlines
The value of B.C.'s building permits in October dropped from the month before.

In 2018, almost a third of child and youth victims of violence were assaulted by a family member.