Edition: February 10-14, 2020
Resources
News by Sector
Economy
Government Operations
Multiculturalism
Services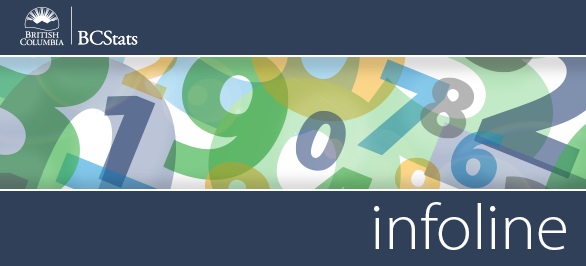 Infoline Highlights for the Week of February 10-14

Charitable Giving - Approximately 683,150 British Columbian taxpayers made a charitable donation during the 2018 tax year, a 0.7% decrease over the previous year. This accounts for roughly 18% of B.C.'s total number of tax filers, only slightly below the national average (19%).
Read more >>
Building Permits - The value of building permits issued by B.C. municipalities climbed (+7.1%, seasonally adjusted) in December, adding to a slight (+0.8%) increase recorded in November. Residential permits jumped (+22.4%), more than reversing the previous month's (-6.5%) loss.
Read more >>





Current Surveys
BC Hydro Workforce Profile Survey
BC Public Service Work Environment Survey

BC Student Outcomes Survey of Apprenticeship and Trades Training Students




BC Student Outcomes Survey of Baccalaureate Graduates

BC Student Outcomes Survey of Diploma, Associate Degree and Certificate Students

CABRO Diversity

City of Victoria Business Survey

City of Victoria Employee Engagement




K-12 School Food Survey

Liquor Distribution Branch Work Environment Survey




Office of the Auditor General Work Environment Survey




Workforce Development Agreement Outcomes

Workforce Development Agreement Employer Outcomes



You can read more about any of these by visiting our Current Surveys page.



Did You Know
A very slim majority of Canadians (55%) support the decriminalization of prostitution in Canada, according to a survey conducted by Ipsos for Global News. While 60% of British Columbians support decriminalization, support drops to 51% in Atlantic Canada.

Source: Ipsos


Headlines
British Columbians donated less money in 2018 than the year before.

The value of building permits in B.C. increased in December from November.