Edition: February 11, 2019
Resources
News by Sector
Economy
Government Operations
Multiculturalism
Services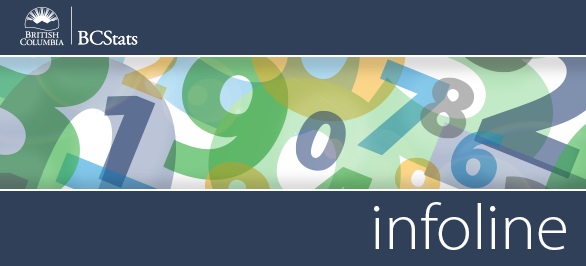 Infoline Highlights: Coverage for the week of February 4-8

Food Services and Drinking Places - Sales at B.C.'s food services and drinking places jumped 16.3% during 2017. Receipts at full-service restaurants, which represent the largest share of provincial sales, climbed 7.6%, but drinking places (+3.5%) limited-service eating places (+4.4%) and special food services (+9.1%) also fared well.
Read more >>

Charitable Donations - Approximately 687,620 British Columbian taxpayers made a charitable donation during the 2017 tax year, a slight (-0.2%) decrease over the previous year. This accounts for roughly 19% of B.C.'s total number of taxfilers, only slightly below the national average (20%).
Read more >>
Grandparents - In 2017, there were 971 thousand grandparents aged 45 and older in B.C., according to the General Social Survey (GSS) on Family. This was up from 694 thousand in 1995. The share of older cohorts of grandparents is also on the rise.
Read more >>
Labour Force Statistics - The unemployment rate in British Columbia was 4.7% in January, up 0.3 percentage points from December and down 0.1 percentage points from 12 months ago. The labour force (+16,000) and the number of jobs (+8,700) increased from December.
Read more >>
Building Permits - The value of building permits increased 22.0% (seasonally adjusted) in December from the previous month. There were increases in permits for institutional (+57.0%), commercial (+32.1%), industrial (+14.5%), and residential (+14.3%) projects.
Read more >>
Exports - As noted in Infoline issue 19-06: "Canadian International Trade Data" on January 17, the February 5 Canadian international merchandise trade data for the December 2018 reference month did not occur and will be released at a later date.
Read more >>
Head Offices - There were 2,729 head offices in Canada in 2017, unchanged from one year prior. At the same time, B.C. saw its count inch up between 2016 and 2017 (from 307 to 308). The number of head offices increased or remained unchanged in seven provinces.
Read more >>



In 2017, B.C. had 308 head offices, one more than in 2016. Ontario is the province with the most head offices (40% of the national total), followed by Quebec (20%), Alberta (14%), and B.C. (11%).

Follow @BCStats on Twitter


Current Surveys
BC Hydro Workforce Profile Survey
BC Public Service Exit Survey
BC Public Service New Job Survey
BC Student Outcomes Survey of Apprenticeship and Trades Training Students


BC Student Outcomes Survey of Diploma, Associate Degree and Certificate Students



Canada-BC Job Grant Outcomes Survey
Diversity and Inclusion Survey

FrontCounter BC Customer Satisfaction Survey
Labour Market Agreement for Persons with Disabilities Outcomes Survey


Long Term Disability (LTD) Application Process Survey

New Entrants to Agriculture

School District No. 22 (Vernon) Employee Engagement




Service BC Citizen Satisfaction

Service BC Contact Centre


Service BC Registries and Online Services



You can read more about any of these by visiting our Current and Recent Surveys page.



Did You Know
Please take BC Stats' short survey to help us understand how you use our Infoline e-newsletter, webpages, and/or Twitter. Your feedback is important, and will help us ensure that our communications tools meet your needs.
Take the survey


Headlines
B.C.'s food services and drinking places saw a jump in sales in 2017.

Unemployment in B.C. rose slightly in January over the month before.

B.C.'s building permit values increased in December.