Edition: February 14, 2017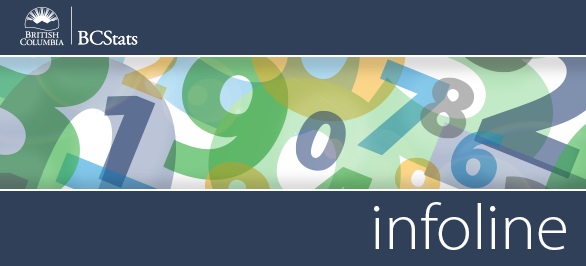 Infoline Highlights: Coverage for the week of February 6-10

Labour Force Statistics Highlights - The unemployment rate in British Columbia was 5.6% in the month of January, down from 5.8% in December. The gain in employment relative to the previous month (+11,200) was much greater than the increase in size of the labour force (+5,900).
Read more >>
Price of New Housing - New housing prices in British Columbia's major cities increased significantly in December 2016. Prices in Victoria were up 5.1% compared to the same month of 2015.
Read more >>
Housing Starts - Urban housing starts (areas with at least 10,000 population) across the country inched up 1.0% (seasonally adjusted at annual rates) in January, compared to December.
Read more >>
2016 Census: Information and Upcoming Releases
- Not everyone is counted in the census and some people are counted more than once. Statistics Canada undertakes a series of 'coverage studies' to assess the net impact of missing or over-counted people and households.
Read more >>
Census 2016: Highlights from the Population and Dwelling Release - Statistics Canada has released the population and dwelling counts from the 2016 Census today. This release spans a wide range of geographies, from Canada, provinces and territories to regional districts and municipalities. Information is also available for land area, population density, population rank and population percentage change from 2011.
Read more >>
Building Permits - The value of building permits issued in B.C. dipped 23.5% (seasonally adjusted) in December, after solid growth in the previous month (+11.9%). The drop-off was due primarily to a slump in residential building permits (-27.3%), the deepest decrease since November 2011.
Read more >>
Exports Highlights
- The value of B.C. origin exports climbed 9.8% from 2015 to 2016. There was robust growth to B.C.'s top export destination, the United States (+12.9%), and there was also double-digit growth to South Korea (+18.8%), the European Union (+10.9%), Taiwan (+12.3%) and India (+29.7%).
Read more >>


@BCStats on Twitter
The cost of new housing in B.C.'s two largest cities was notably higher in December 2016 than in same month of 2015.

Follow @BCStats on Twitter


Current Surveys
Apprenticeship Student Outcomes (APPSO) Survey
Baccalaureate Graduate Survey
BC Hydro Workforce Profile Survey
BC Public Service Exit Survey
Canada-BC Job Grant Outcomes Survey
Diploma, Associate Degree, and Certificate Student Outcomes (DACSO) Survey
FrontCounter BC Customer Satisfaction Survey
Labour Market Agreement for Persons with Disabilities Outcome Survey
Legal Services Society 2017 Work Environment Survey

Long Term Disability (LTD) Application Process Survey
Ministry of Finance Revenue Services Client Satisfaction Survey 2016/2017
Office of the Auditor General 2017 Work Environment Survey

SDSI LMAPD Monthly Survey 2016-17
Service BC Citizen Satisfaction Survey 2016/2017
Service BC Registries and Online Services Survey

You can read more about any of these by visiting our Current and Recent Surveys page.



Did You Know
There were 7.9 million couples living in private households in Canada (2011), and the average household spent $225 on chocolates and candies. Happy Valentine's Day!
Source: Statistics Canada


Headlines
B.C.'s unemployment rate decreased slightly in January.

B.C grew by early 250,000 people between 2011 and 2016.

Energy product exports jumped 29.5% in value in 2016.