Edition: February 17-21, 2020
Resources
News by Sector
Economy
Government Operations
Multiculturalism
Services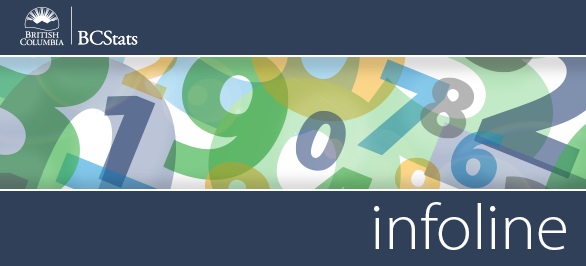 Infoline Highlights for the Week of February 17-21

Food Services and Drinking Places - Receipts at food services and drinking places in B.C. inched up (+0.1% seasonally adjusted) in December. Sales at Canadian establishments were also up slightly (+0.1%) as revenues were higher in seven provinces.
Read more >>
Visitor Entries - Visitor entries to B.C. from the U.S. and overseas was up (+2.6%, seasonally adjusted) for the second straight month in December. Entries from overseas sources jumped 4.9% and travel to B.C. from the U.S. climbed 1.7%.
Read more >>
Retail Sales - Retail sales in British Columbia inched up (+0.1% seasonally adjusted) in December, following a 1.4% increase in November. Nationally, retail sales were flat in December (+0.0%).
Read more >>
Manufacturing Sales - Manufacturing sales in B.C. climbed 3.3% (seasonally adjusted) in December. Sales of manufactured food (+1.8%) and paper (+6.4%) products were both up for the second straight month, helping to drive total receipts for non-durables 3.0% higher.
Read more >>

Price of New Housing - The cost of new housing in B.C.'s two largest metropolitan areas continued to decline in January. In Victoria, new housing prices inched down 0.7% over the same month of 2019, while homebuilders in the Vancouver area received 2.4% less for their projects.
Read more >>
Employment Insurance - The number of regular Employment Insurance (EI) recipients in B.C. increased (+1.4% seasonally adjusted) to 41,840 in December. A decline (-2.7%) in the number of younger beneficiaries (aged 15 to 24 years) was more than offset by increases among recipients aged 24 to 54 years (+1.6%) and 55 and over (+2.1%).
Read more >>

Consumer Price Index- British Columbia's consumer price index (CPI) was 2.3% higher (unadjusted) in January 2020 than in the same month of 2019. On a monthly basis, the CPI rose 0.3% from December 2019. The overall annual inflation rate dropped to 1.7% when food and energy were excluded from the index.
Read more >>




Current Surveys
BC Hydro Workforce Profile Survey
BC Public Service Work Environment Survey

BC Student Outcomes Survey of Apprenticeship and Trades Training Students




BC Student Outcomes Survey of Diploma, Associate Degree and Certificate Students

CABRO Diversity


City of Victoria Employee Engagement

Legal Aid BC Work Environment Survey




K-12 School Food Survey

Liquor Distribution Branch Work Environment Survey

Workforce Development Agreement Outcomes

Workforce Development Agreement Employer Outcomes



You can read more about any of these by visiting our Current Surveys page.



Did You Know
71% of Canadian women 45+ earning $60,000/year or more generally feel confident about their ability to maintain their lifestyle in retirement. 44% of women in Alberta disagree that they will be able to afford it, followed by women in Atlantic Canda (33%), Ontario (29%), Manitoba and Saskatchewan (28%), B.C. (27%) and Quebec (23%).

Source: Ipsos


Headlines
B.C. welcomed more visitors in 2019 than in 2018, setting a record.

The cost of new housing decreased in Vancouver and Victoria in January.

B.C.'s consumer price index increased in January.