Edition: February 19, 2018
Resources
News by Sector
Economy
Government Operations
Multiculturalism
Services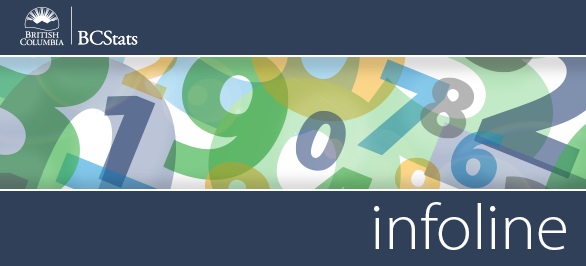 Infoline Highlights: Coverage for the week of February 12-16

Manufacturing Sales - British Columbia manufacturing sales slipped 0.7% in December as sales by manufacturers of non-durables were down 2.4%.
Read more >>
Employment Insurance - There was a 1.2% decline (seasonally adjusted) in the number of people in British Columbia who received employment insurance (EI) benefits in December, compared to November.
Read more >>
Adult Criminal Court Elapsed Time - In 2005/2006, cases took a median of 111 days to decide, but by 2015/2016, the time from the initial court appearance through to the date of decision was reduced to a median of 100 days per case.
Read more >>
Charitable Donations- While the proportion of B.C. taxfilers making a charitable donation was below the national average of 20.5%, the median donation in B.C. was $440, which was well above the national median of $300.
Read more >>



@BCStats on Twitter
Around 20% of B.C. tax filers donated to charity in 2016, giving almost $1.5 billion.

Follow @BCStats on Twitter


Current Surveys
Baccalaureate Graduate Survey
BC Hydro Workforce Profile Survey
BC Public Service Exit Survey
BC Public Service Work Environment Survey
BC Student Outcomes Survey of Apprenticeship and Trades Training Students
BC Student Outcomes Survey of Diploma, Associate Degree and Certificate Students
Canada-BC Job Grant Outcomes Survey
FrontCounter BC Customer Satisfaction Survey
Labour Market Agreement for Persons with Disabilities Outcome Survey
Long Term Disability (LTD) Application Process Survey
New Job Survey
Office of the Auditor General Work Environment Survey
Social Development and Poverty Reduction (SDPR) LMAPD Monthly Survey
U-Pass BC Survey
You can read more about any of these by visiting our Current and Recent Surveys page.



Did You Know
In 2016, taxfilers in British Columbia had the highest median investment income ($820) and the highest proportion of taxfilers reporting investment income (33.0%) among all provinces and territories.
Source: Statistics Canada


Headlines
B.C. manufacturing sales fell in December compared to November.

The number of people in British Columbia who received employment insurance (EI) benefits in December declined compared to the previous month.

The median time to adjudicate court cases in B.C. has fallen in the last ten years.